Description is below picture.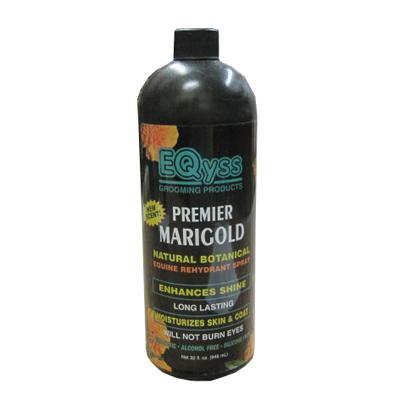 Eqyss Marigold Spray 32 oz.

Some of the Eqyss products have recently had their labels, ingredient wording, and order of ingredient listing changed. This has caused speculation that the products are not the same and/or are not as effective as they used to be; however this is not true. Eqyss products have NOT changed their ingredients for over 21 years. The wording was changed to facilitate sales in international markets and the order of ingredient listing was changed to reflect the amount of the ingredient relative to other ingredients. Eqyss has published a letter explaining this, which you can view by clicking here.

Eqyss Marigold Horse Spray is Nature's Best Kept Secret! It is completely SAFE for you and your horse to breathe. Marigold Horse Spray creates an effective shield from the summer elements using natural botanical extracts.

Marigold Horse Spray was developed to give protection from problems caused during the hot summer months. This unique, extremely pleasant smelling botanical product is:
Non-Toxic and contains No DEET, insecticides or pesticides
Contains no silicone, wax or oil so skin and hair will not be damaged or dried out
Alcohol Free
Will not burn or sting wounds
Will not stain equipment or clothing
Non-slip and can be used on saddle area
Anti-Static
Repels dust and dirt
Cruelty Free
Environmentally Friendly
It's even Safe for Human Use! And it smells great!
Directions: Spray body including head, face and ears as often as needed. Safe to rub inside ears as well.

Note:Formerly known as Eqyss Marigold Mist. The formulation is similar but no longer has the clove or rosemary extract, in addition the name has changed from Mist to Spray

Ingredients:
Deionized Water, Sodium PCA, Cetrimonium Chloride, Propylene Glycol, Aloe Barbadensis Gel, Glycosaminoglycans, Polysorbate 20, Polysorbate 80, Citric Acid, DM DM Hydantoin, Methylparaben, Tetrasodium EDTA, Fragrance, Defoamer.

Manufacturer: Eqyss
See all products from Eqyss
Visit Manufacturer's website: www.eqyss.com
EQyss Marigold Horse Spray 32 oz
UPC: 786232104753