Description is below picture. MouseOver to zoom.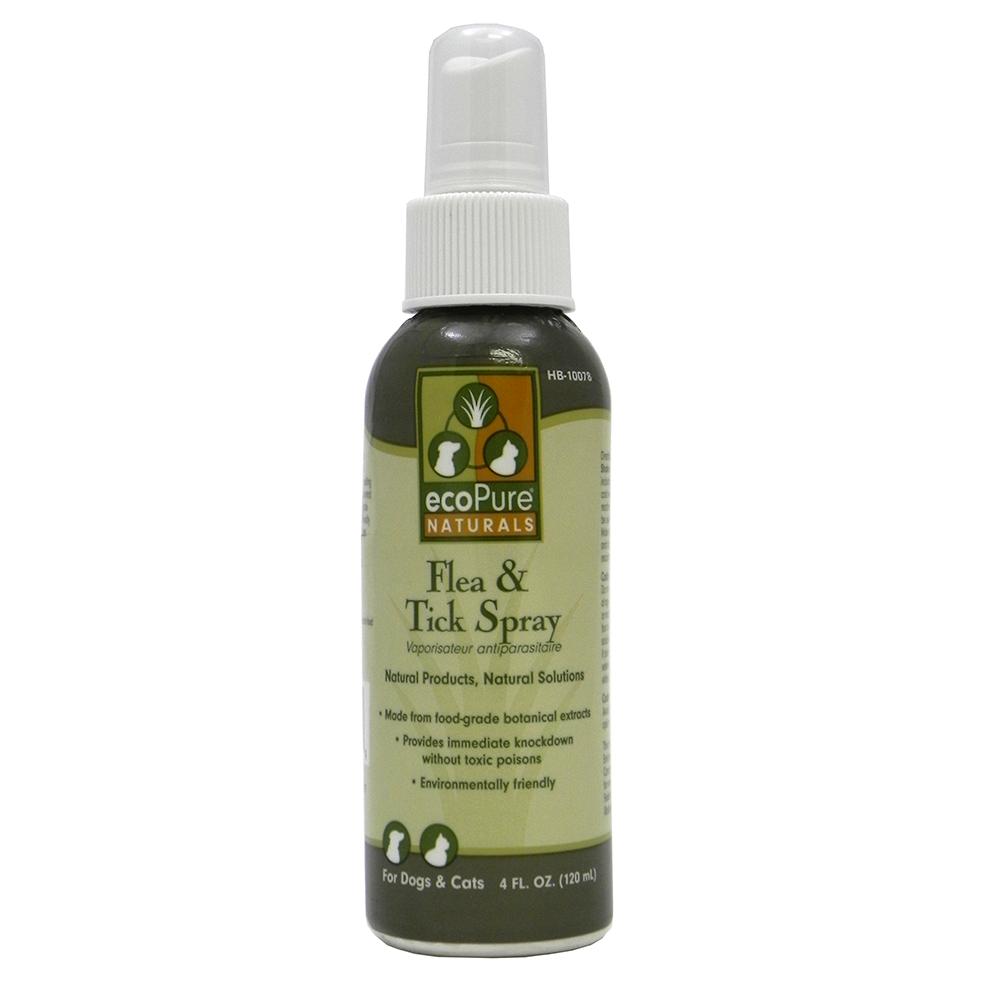 ecoPure Flea & Tick Spray. ecoPure Naturals Flea & Tick Spray safely repels fleas and ticks without dangerous chemicals! Artificial, chemical-filled flea & tick sprays work by interfering with the nervous system of insects. Basically, these products stop the normal action of neuro-transmitters, causing the insects to lose control of bodily functions, go into convulsions, dehydrate and ultimately die. ecoPure Naturals' Flea & Tick Spray also interrupts a specific set of neurotransmitters found only in insects, resulting in a complete breakdown of the insect's central nervous system, but it does this with food-grade ingredients, making it extremely environmentally friendly. You may have to reapply ecoPure Flea & Tick Spray on your pet more frequently than the dangerous chemical sprays, but you can feel confident that it is safe.

ecoPure Naturals' Flea & Tick Spray utilizes natural, safe, effective ingredients such as Castor Oil, Eugenol (Clove Oil) and Thyme Oil that have been used for decades as a defense against unfriendly pests. They are listed on the US EPA Biopesticide Active Ingredient Fact Sheet and the FDA GRAS (Generally Recognized as Safe) list.

ecoPure Naturals Flea & Tick Spray contains 9% active ingredients (Castor Oil, Thyme Oil and Clove Oil). Castor oil comes from the castor seed, thyme oil from the herb thyme, and Eugenol is oil derived from cloves. These active ingredients biodegrade quickly and come from a renewable energy resource - plants.

ecoPure Naturals Flea & Tick Spray also contains Sodium Lauryl Sulfate (SLS) which is derived from coconut oil. There have been many rumors on the internet claiming SLS is a carcinogen but that has been debunked. In fact, the American Cancer Society has confirmed that it was an urban legend. SLS acts as a foaming agent that breaks the surface tension of liquid to allow for easier spreading.

ecoPure Naturals Flea & Tick Spray also contains lecithins which help hold the ingredients together. It is a safe ingredient commonly found in food. Both SLS and lecithins are on the FDA's Generally Recognized as Safe list.

ecoPure Naturals Flea& Tick Spray:
Is made from food-grade botanical extracts.
Provides immediate pest knockdown without toxic poisons
Is safe for use around children and pets.
Active Ingredients:
Castor oil ( Castor Oil is a vegetable oil pressed from the seed of the Castor plant. Castor Oil has been used for centuries for its antimicrobial and antibacterial properties by healers, doctors and common folk as well. The Castor Oil plant is native to India, and is regarded as one of the most valuable laxatives in medicine. You may remember it as a childhood remedy for stomach aches. Relieving a stomach ache is just one of its many uses. Castor Oil's medicinal potential, alone and combined with other naturals, has grown in recent years.)- 3%, Eugenol (clove oil) - 3%, Thyme oil - 3%, Sodium lauryl sulfate - 3%
Inactive Ingredients:
Water and lecithins - 88%

Manufacturer: Our Pets
See all products from Our Pets
Visit Manufacturer's website: www.ourpets.com
ecoPure Natural Flea & Tick Spray 4oz
UPC: 780824101489