Description is below picture.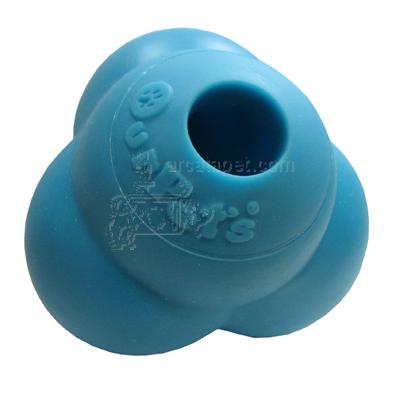 Atomic Treat Ball Medium.

The Atomic Treat Ball keeps your dog mentally stimulated, physically active, happy and healthy.
Reduces boredom and destructive behavior through healthy play and exercise
Developes and maintains dog's physical alertness
Easy and fun for dogs to carry
Can be used for portion controlled feeding
Easy to clean and refill
Durable and non-toxic
Won't damage carpets or furniture
How to load Atomic Treat Ball: Put dry food or treats into opening. Turn ball in your hands to distribute food inside ball. Push or roll to your dog and let some food fall out of the hole. Your dog will "take it" from there!
Cleaning: Wash with warm sudsy water. Rinse well and dry before filling with food or treats.
Please note: This product must be larger than the width of your dog's mouth. Product measures approximately 4 inches wide by 4 inches tall.
Color may vary

Manufacturer: Our Pets
See all products from Our Pets
Visit Manufacturer's website: www.ourpets.com
Atomic Treat Dog Ball Interactive Toy and Treat Dispenser
UPC: 780824102844