Description is below picture.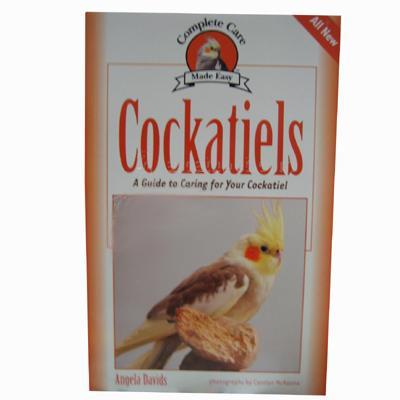 Guide to Caring for Cockatiels. Complete Care Made Easy From the Publishers of Bird Talk® Magazine

Always wanted your own pet cockatiel but don't have a clue what to do? Here is the ultimate resource for everything you need to know about these adorable and entertaining birds. Cockatiels is filled with invaluable information on choosing, caring for, and keeping your feathered companion healthy, happy, and living longer. Some of the helpful information you'll find inside includes:
Up-to-Date Information
Fascinating Historical Facts
Tips on Choosing the Right Pet
Helpful resource Guide
Emergency First Aid Tips
Fun Activities and Tricks
Simple Training Tips
Diet and Nutrition
Communicating with Your Pet
100 Full-Color Photos
And Much More . . .
Author: Angela Davids Category: Pets Format: Paperback, 168 pages, 5 1/2 x 8 1/2 , Full-color photographs ISBN: 1-931993-71-8

Manufacturer: Bowtie Press
See all products from Bowtie Press
Visit Manufacturer's website: www.i5publishing.com
Guide to Caring for Cockatiels
UPC: 731360937186