Item 16028
Your Price today: $ 142.11

Arcata Pet does not normally stock this item. We would be happy to order it for you. Typically we can have it in our shop between 4 and 10 days from ordering, at which point we would ship to you. If you would like to have us provide a more precise estimate of delivery time, as well as shipping charges, please tell us the quantity you need, your zip code or country, and your e-mail address. We will get back to you within 24 hours with the information so that you can decide if you want to place an order.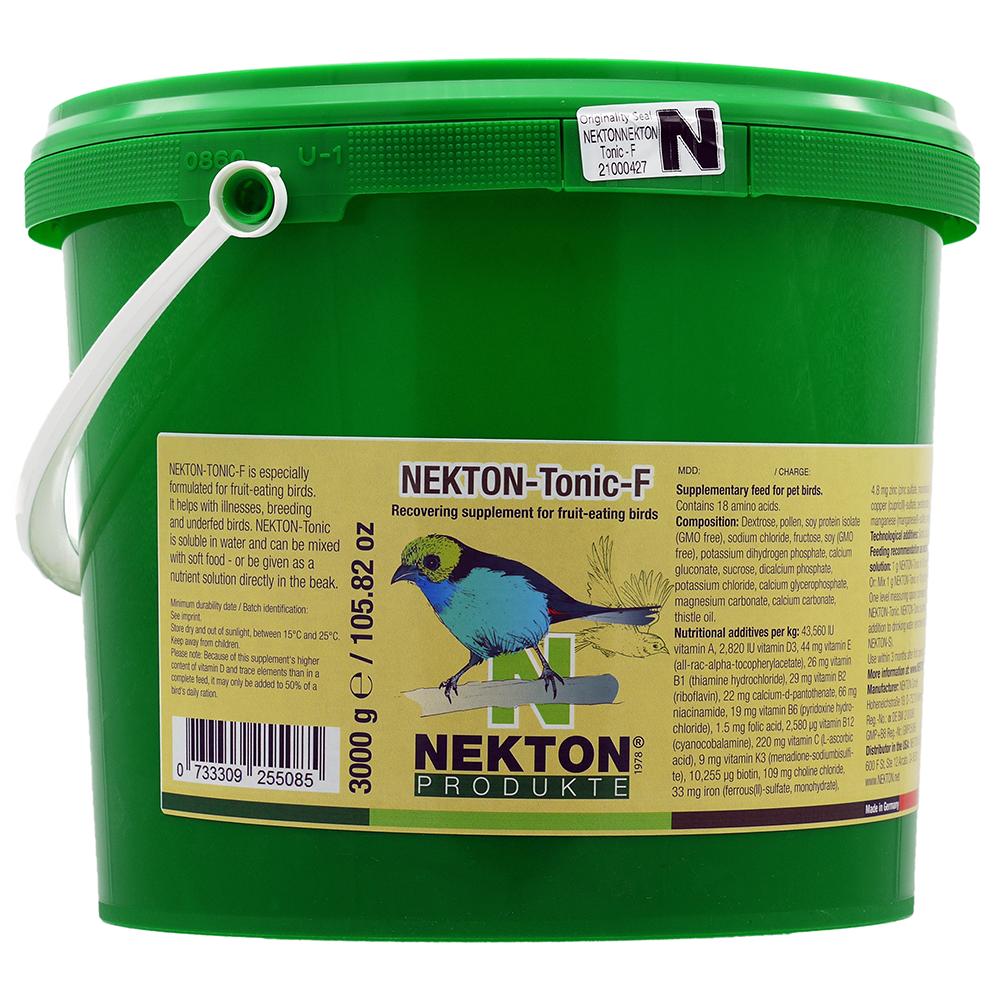 Nekton-Tonic F 3000g (SpecOrd).
Nutritional supplement for frugivores
The NEKTON-Tonic products are particularly characterized by all 60 elements that are contained in their fully unlocked form and thus available to the body immediately after it has been administered, without any strain on the digestive organs. It helps with illnesses, breeding and underfed birds. NEKTON-Tonic can also be administered as complete feed for some time, if required. NEKTON-Tonic is often the only possibility to provide ill and weak animals with the necessary nutrients and thus achieve a speedy recovery.

NEKTON-Tonic is soluble in water and can be mixed with soft feed – or be given as a nutrient solution directly in the beak. NEKTON-Tonic can be administered two to three times a week, or daily, in cases of increased stress, to prevent nutritional deficiencies. Contains 18 amino acids

Composition:
Dextrose, pollen, soy protein isolate (GMO free), sodium chloride, fructose, soy, potassium dihydrogen phosphate, calcium gluconate, sucrose, dicalcium phosphate, potassium chloride, calcium glycerophosphate, magnesium carbonate, silicic acid, calcium carbonate, thistle oil

Nutritional additives per kg:
43,560 IU vitamin A, 2,820 IU vitamin D3, 44 mg vitamin E, 26 mg vitamin B1 (thiamine hydrochloride), 29 mg vitamin B2 (riboflavin), 22 mg pantothenic acid (calcium-D pantothenate), 66 mg nicotinamide, 19 mg vitamin B6 (pyridoxine hydrochloride), 1.5 mg folic acid, 2,580 µg vitamin B12, 220 mg vitamin C (L(+)-ascorbic acid), 9 mg vitamin K3 (menadione-sodium bisulfite), 10,255 µg biotin, 110 mg inositol, 109 mg choline chloride, 33 mg iron (iron (II) sulfate) 0.1 mg zinc (zinc sulfate), 8 mg copper (copper (II) sulfate), 7 mg manganese (manganese (II) sulfate), 0.09 g molybdenum (ammonium molybdate) Technological additive: preservative

Feeding recommendation:
As nutrient solution: 10 g NEKTON-Tonic in 100 ml of water. Or: Mix 10 g NEKTON-Tonic in 100 g of soft feed. 1 level measuring spoon corresponds to 10 g NEKTON-Tonic. NEKTON-Tonic is administered in addition to drinking water (enriched with NEKTON-S).

Storage:
NEKTON-Tonic-F should be stored dry and out of sunlight, between 15° and 25° C (59° and 77° F). DO NOT STORE IN THE FRIDGE !!!


Recommendation:
Disinfect drinking vessels and food containers daily with NEKTON-Desi-Plus to guarantee hygienic and clean feed!



Manufacturer: Nekton
See all products from Nekton
Visit Manufacturer's website: www.nekton.net
Nekton-Tonic-F for fruit-eating birds 3000g (6.6lbs)
UPC: 733309255085