Vetericyn Pet Hydro Gel Spray 8oz
Dog Supplies > Health > Skin and Coat
Cat Supplies > Medication and Supplements > Skin and Coat
Item 16217
In-Store Price: $ 32.69 Your Price today: $ 27.79
Availability: In-Stock. Quantity on hand: 3

Description is below picture.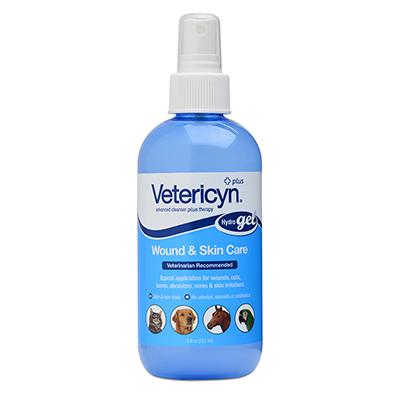 Vetericyn Hydro Gel Spray 8oz. One-step topical water-based HydroGel spray that cleans wounds, treats infections and kills bacteria including antibiotic-resistant MRSA. Use to treat topical infections and wounds, hot spots, rain rot, outer ear infections, yeast infections and rashes. This steroid-free, antibiotic-free, no-rinse solution is non-toxic and speeds healing. HydroGel is designed to slowly evaporate, there is no need to wipe away film or residue from previous applications.
Wound & Infection Treatment
Rain Rot
Rashes
Post Surgical sites
Burns
Cinch Fungus
Strangles
Ring worm
Skin infections
Scratches
Vetericyn is not a steroid, antibiotic, bleach, toxin or organic homeopathic.

Vetericyn is a scientifically engineered topical solution that kills virtually any infection, yet is completely non-toxic and environmentally friendly. Backed by real science with over 25 clinical trials completed, Vetericyn is the animal version of the FDA-cleared Microcyn formulation that has been used on over one million human patients worldwide without a report of a single serious adverse effect.

Vetericyn is completely bio-compatible because it mimics the body's natural immune system's response to an infection. In addition, bacteria, virus, fungi and spores have not demonstrated the ability to develop resistance to Vetericyn. In fact, Vetericyn kills all these single-cell pathogens within 30 seconds of contact. Vetericyn is so potent it kills salmonella, staph, E. coli and even MRSA. But because it is safe as water it is completely non-toxic and environmentally friendly. Therefore your animal can lick its wounds or infections after application of Vetericyn without any adverse affects. It does not stain furniture or clothes. And there are no special disposal requirements.

Vetericyn contains no steroids or antibiotics which can hinder the healing process or weaken the immune system.

There are also two other significant benefits to Vetericyn. Wounds treated with Vetericyn have demonstrated a reduction in healing time by up to 60%. Vetericyn significantly increases the oxygen content at the wound site within 30 seconds and maintains that oxygen level for up to 36 hours. This increase in oxygen could account for these accelerated healing times. Second, Vetericyn treats and reduces chronic inflammation by inhibiting the release of histamines by the mast cells. Chronic inflammation is a barrier to healing.

To summarize, Vetericyn is a completely non-toxic anti-bacterial, anti-fungal and anti-viral that is environmentally friendly and safe as water. It does not stain clothes or furniture and is bio-compatible with your animal's body.



Manufacturer: Vetericyn
See all products from Vetericyn
Visit Manufacturer's website: www.vetericyn.com/
Vetericyn Pet Hydro Gel Spray 8oz
UPC: 852009002109