Description is below picture.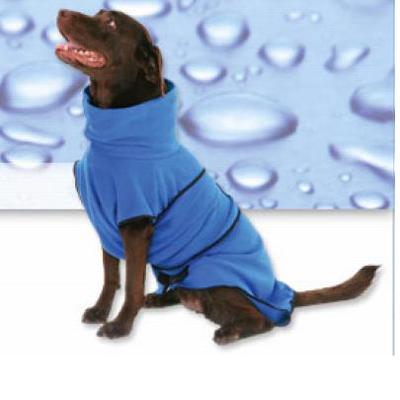 Towel Tog Dog Towel XS. Wet Dog Indoors? No Problem! The Original Wearable Towel for Wet Dogs... In Any Situation! Finally-keep the splashing, staining and wet doggy smell out-and let the dog you love indoors. Towel Togs are made of special microfiber fabric that rapidly wicks and absorbs water from your dog's coat.

Beneficial for all dog owners, groomers, handlers, veterinarians, hunters, boaters, doggy daycare providers and more.

Available in five adjustable sizes for the perfect fit!
Easy to slip on one-piece tog
Slip Towel Tog over a dog's head with the tailpiece on top
Slide tailpiece over tail, pulling tail through opening
Drape top flaps down using the Velcro strap to attach at the bottom of the belly
Pull front piece at the chest, between front legs. Bring up the sides and buckle on top of dog's back. Adjust strap to fit comfortable (two fingers) snugly
Sizing Recommendations
X-Small (9"), Small (11"), Medium (16"), Large (23"), X-Large (28") Sizing guide: Measure length of dog's back from base of the neck to the base of the tail. If measurement is between sizes or if dog has a stouter build, select the next size up for proper fit.

Manufacturer: Wet Dog Solutions
See all products from Wet Dog Solutions
Towel Tog Wearable Microfiber Dog Towel X-Small