All Natural Water Protector 33.9oz
Poultry Supplies > Poultry Cleaning/Disinfectants
Item 17390
In-Store Price: $ 21.69 Your Price today: $ 18.00
Availability: In-Stock. Quantity on hand: 2

Description is below picture.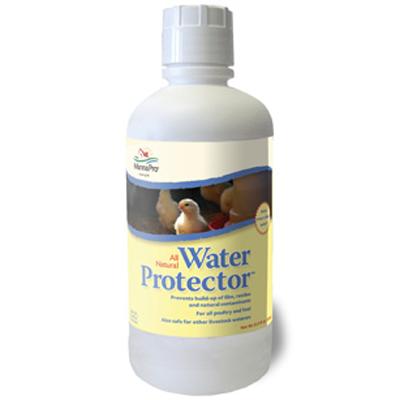 All-Natural Water Protector. Nothing is more important to the overall health of your flock than clean, clear water. Manna Pro Water Protector provides a unique blend of enzymes that stop film, residue and natural contaminants from affecting the taste and quality of your poultry's water. Water Protector is an all-natural solution for keeping your flock's water supply safe and clean.
Helps ensure clean water!
Prevents build-up of film, residue and natural contaminants
For all poultry and fowl
Effective for use in plastic, galvanized and heated waterers
Ingredients
Water, Yeast, Citric Acid, Potassium Sorbate
DIRECTIONS FOR USE:
Change your birds' water daily. Prior to use, thoroughly clean drinker, fountain, or waterer inside and out, making sure surfaces are thoroughly rinsed clean of all residue. After refilling with water, add Water Protector at a rate of 1 capful per gallon of drinking water. Contents of bottle make approximately 33 gallons of solution. Effective for use in plastic, galvanized and heated waterers.

Manufacturer: Manna Pro
See all products from Manna Pro
Visit Manufacturer's website: www.mannapro.com
All Natural Water Protector 33.9oz
UPC: 095668020514