Description is below picture.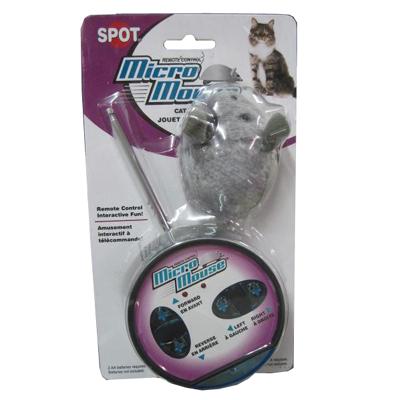 Remote Control Mouse.

The Micro Mouse can be a very fun addition to your cat's toy collection; however if you don't know what to expect it has the potential to be a major disappointment. This toy will not work on carpet, uneven hard-flooring, or grouted tile. Essentially you need to have hard wood floors or linoleum for the Micro Mouse to function properly. Alternatively, it could operate on a table top (don't drive it off the edge).

Another issue is dust, dirt and especially hair. If there is hair on the floor, in particularly long hair, the Micro Mouse will stop functioning almost immediately as the hair will get bound up in its gears. Dust and dirt will take longer to stop the Micro Mouse but not much.

If you can deal with the stipulations above, here's what you need to know to have fun:
Remote control operates on two AA batteries, and the Micro Mouse itself is charged off of the remote.
Charging takes about 45 seconds.
You should completely discharge the Micro Mouse before recharging.
Through our own testing we have determined the following:
The Micro Mouse has a maxmium remote range of roughly 20-feet; the range decreases as the battery discharges.
On a full charge you can expect the Micro Mouse to run for 3½ to 4-minutes.
We aren't joking about hair being an issue, long hair is the Micro Mouse's WORST enemy!
Under the right conditions it's pretty darn fun to play with!


Manufacturer: Ethical Spot
See all products from Ethical Spot
Visit Manufacturer's website: www.ethicalpet.com
Micro Mouse Remote Controlled Mouse Cat Toy
UPC: 077234023006