Description is below picture.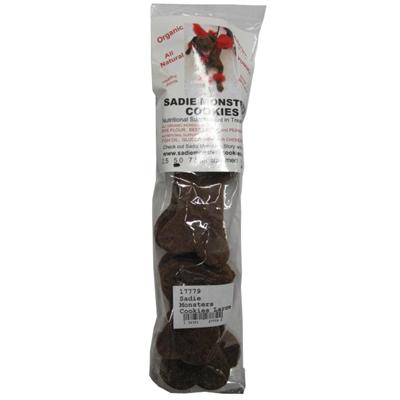 Sadie Monsters Cookies Large.

Sadie was a 95-Lb. Bullmastiff/Rottweiler mix and here is her story:

When I was a puppy my family discovered I was allergic to carrots, eggs, corn and a few other ingredients found in most dog food. After realizing that there are not enough treats out there with nutritional benefits and for dogs prone to food allergies...my mom made a super cookie for me. After testing and approving the recipe, my cookies are available to all dogs. A great nutritional supplement in treat form with ingredients like glucosamine with chondroitin for joints, fish oil for skin, coat and heart, and peanut butter beef flavor profile dogs love.

All Organic Ingredients:
Rye Flour , Peanut Butter and Beef Broth

Nutritional Supplements:
Glucosamine with Chondroitin and Fish Oil

Glucosamine and Fish oil amounts:
500 mg. = 1 Large Bone
300 mg. = 1 Medium Cookie
100 mg. = 1 Small Cookie
30mg (ave)=training treats


Large biscuit is approximately 3 x 1½-inches.



Manufacturer: Sadie Monster Cookies
See all products from Sadie Monster Cookies
Sadie Monster's Cookies Large Homemade Dog Biscuits 5-oz.