Description is below picture.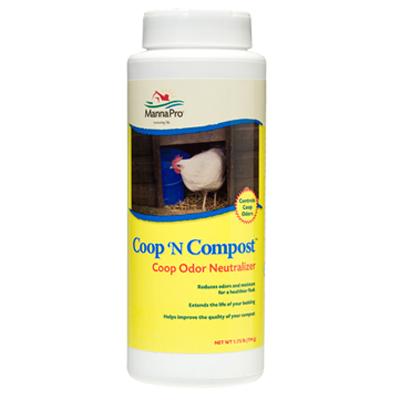 Coop'N Compost is the natural way to neutralize odors and moisture in the chicken coop. Not only will this protect the respiratory systems of your flock, but it will make your nose and neighbors happy! In addition to the powerful odor control, Coop'N Compost also helps make the nutrients in your manure and compost more plant-accessible which can benefit your garden! Try Coop'N Compost for healthy birds, happy neighbors and lush gardens!
Reduces odors and moisture
Extends the life of your bedding
Helps improve the quality of your compost
Directions for use:
Remove all existing bedding and waste. If using water or a cleaning aid, wait until coop is completely dry before applying Coop'N Compost. Sprinkle liberally on the floor of the coop, creating a thin layer of granules. Add fresh bedding. It is recommended that the coop be cleaned every 1-2 weeks.
If using the deep-litter method: Sprinkle Coop'N Compost into the litter 1-2 times per week, as well as each time fresh bedding is added.
Ingredients: Zeolite

Manufacturer: Manna Pro
See all products from Manna Pro
Visit Manufacturer's website: www.mannapro.com
Coop'N Compost Coop Odor Neutralizer 1.75 lb
UPC: 095668021115