Description is below picture. MouseOver to zoom.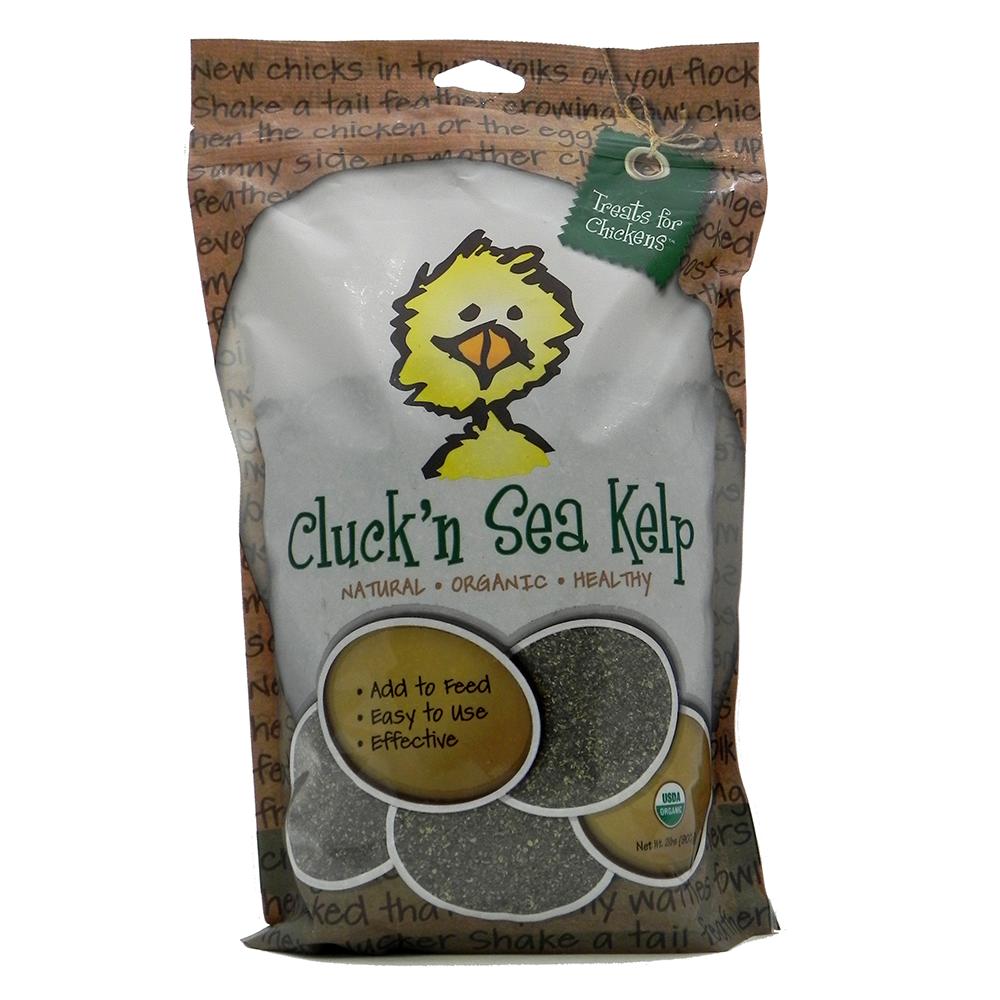 Organic Cluck N Sea Kelp 2lb.

Cluck 'n Sea Kelp is an excellent addition to your poultry's diet. It's a great way to raise happy hens while adding beneficial bacteria to the intestinal flora of your hens diet. Enjoy increased weight gain, better development of bone structure, reduced coccidiosis outbreaks, bright plumage, and vibrant orange egg yolks!

Reduced food consumption, great overall health, and reduced occurrence of disease are just a few of the many benefits of adding Cluck'n Sea Kelp to your hens diet.

Kelp is a valuable supplement that provides vitamins, minerals, amino acids and carbohydrates that generally improve the overall health of chickens. Kelp granules can be fed to baby chicks right after hatch and throughout the lifetime of the flock. Many of the minerals include: calcium, magnesium, nitrogen, phosphorous, potassium, sodium, sulfur, cobalt, copper, iodine, iron, selenium. Vitamins include A, B1, B6, (NIACIN), B12, D, E, and K. Kelp contains 21 amino acids to include lysine, hystidine, and proline. Cluck'n Sea Kelp is geothermally dried, organic and provides nutrients of the seas.

USAGE:
Add 1/4 cup per 11lbs (1 to 2%) to your flocks regular feed. As an added treat, you can also add 1 teaspoon to 2 spoonfuls of plain yogurt and serve.
Organic, Eco-friendly, and Healthy
Product of Canada
INGREDIENTS:
Organic Kelp Meal free of artificial colors, flavors, and preservatives.
Guaranteed Analysis
Min. Crude Protein
4%
Min. Crude Fat
2%
Max. Crude Fiber
8%
Max. Moisture
13%
Max. Lysine
0.30%min
Min. Phosphorus
0.1%min
Min. Methionine
0.11%
Calcium
1.2%Min
2.5%Max
Salt
5.30%Min
6.30%Max
Min. Potassium (K)
2%
Min. Iodine (I)
300ppm
Not for human consumption. Avoid extreme heat and direct sunlight. Do not expose to moisture, and this product is not intended for medical use. Keep out of reach of children. Best used within 90 days of opening package.



Manufacturer: Treats For Chickens
See all products from Treats For Chickens
Visit Manufacturer's website: www.treatsforchickens.com
Treats for Chickens Organic Cluck N Sea Kelp 2lb
UPC: 736211708564