Description is below picture.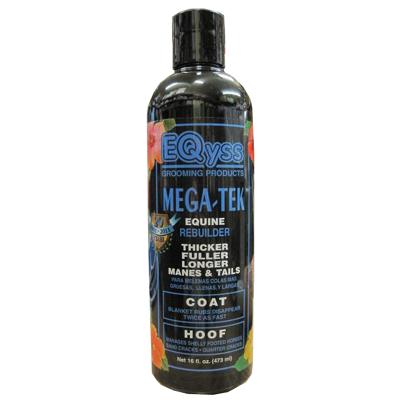 EQyss MegaTek Equi Rebldr 16oz.

Some of the Eqyss products have recently had their labels, ingredient wording, and order of ingredient listing changed. This has caused speculation that the products are not the same and/or are not as effective as they used to be; however this is not true. Eqyss products have NOT changed their ingredients for over 21 years. The wording was changed to facilitate sales in international markets and the order of ingredient listing was changed to reflect the amount of the ingredient relative to other ingredients. Eqyss has published a letter explaining this, which you can view by clicking here.
No silicones, synthetic polymers, petroleum based products or oils!
Strengthens Mane, Tail, and Hooves!
Helps repair Mane, Tail, Hooves and Skin!
Use as often as needed; WILL NOT damage skin, coat or hooves.
Eqyss Mega-Tek Equine Rebuilder formula stimulates hair in a revolutionary way. Similarly indicated products often use silicone, synthetic polymers, petroleum based products or oils. Eqyss has been able to formulate an effective product without those ingredients because they can often cause dry and brittle hair and hooves, which is why Mega-tek Equine Rebuilder is truly a breakthrough formula!

Coats: Applied to wet clean hair. May strengthen hair so mane and tail won't break off as easily and will grow longer. Accelerates hair regrowth on bare spots caused by blanket rubs skin conditions or injuries.

Hooves: When applied to coronet band, wall and frog, may make hoofs grow from 10% to 50% faster and make them 30% stronger. Quarter cracks heal faster, sand cracks disappear and shoes hold better, especially good for shelly footed horses.

Although labeled for use on horses many of our customers find this product good for other applications. Manufacturer states that this product is safe for Human use

Ingredients: (New Formula)
Deionized water, stearalkonium chloride, glycerol stearate,cetearyl alcohol (derived from palm oil), castor oil, ethoxylate(40),tocopheryl acetate (vitamin e), panthenol, hydrolyzed keratin protein, cetrimonium chloride, tetrasodium EDTA, DMDM hydantoin, methylparaben, propylparaben, fragrance.

Comes in 16oz bottle.



Manufacturer: Eqyss
See all products from Eqyss
Visit Manufacturer's website: www.eqyss.com
EQyss Mega-Tek Equine Cell, Coat and Hoof Rebuilder
UPC: 786232104456