Description is below picture.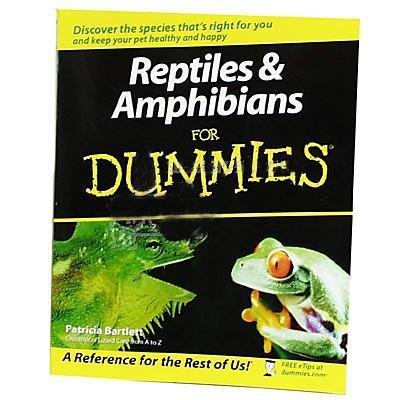 Reptiles Amphibian for Dummies. Packed with tips to care for your special critter!!

Choose the right lizard, turtle, or snake and give your pet the best care.

Fanatical about frogs? Gaga over geckos? This essential guide tells you what you must know before you own a reptile or amphibian, with authoritative advice on everything from proper caging and feeding to health care, socializing, transporting, and more. You'll find out about the different species, normal and abnormal behavior, the basics of breeding, and complying with laws.
The Dummies Way
Explanations in plain English
"Get in, get out" information
Icons and other navigational aids
Tear-out cheat sheet
Top ten lists
A dash of humor and fun
By Patricia Bartlett
ISBN: 0-7645-2569-7
Format: Paper
Pages: 360 Pages
Pub. Date: June 2003


Manufacturer: Howell
See all products from Howell
Visit Manufacturer's website: www.wiley.com
Reptiles and Amphibians for Dummies
UPC: 785555863682