Arcata Pet Supplies is located in the heart of the Redwood Forest. Locals jokingly refer to our location as "living behind the Redwood Curtain". Being so far North and along the coast, we experience wet winters and foggy summers but we think it is a good trade off for a more relaxed way of life. The town of Arcata is a community of 15,000 residents at the north end of Humboldt Bay on California's north coast and is also home of Humboldt State University.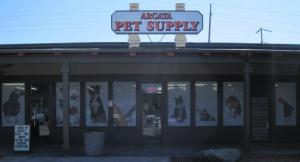 The store first opened in 1972 under the name of Arcata Aquarium. It was a small aquarium store. The current owners, Don and Joy, were two of that store's first employees. In 1976 Don and Joy took over the business and added a few products for other animals to the shop's inventory. As the store evolved, small animals and birds were soon added as was the name Arcata Pet.
In 1984 we were one of the first retail pet stores to stop selling and supporting the wild bird trade. We maintained our own breeding collection of Blue and Gold Macaws, Amazon Parrots, African Greys, Cockatoos and Caiques right here in our store. As we have become more supply oriented, our breeding stock has been sold or sent to live in retirement with our employees.
In 1997 we took the giant step of putting Arcata Pet on the Internet. We were not sure how well this would do, but now the Internet is a significant part of our overall business. Being located in a small town, we take pride in offering our customers the same small town pet store service that our local customers have come to appreciate and expect. Many of our local customers have been shopping with us since we started as a small fish and aquarium store so many years ago, making them part of the Arcata Pet family. We hope that you, our online customers, will join our family.
As we are a real pet store, we have real people running the show and thought you would like to meet the staff at Arcata Pet: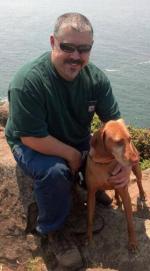 Dan - General Manager. Dan has been with Arcata Pet since May of 1989 having moved to Arcata from Fallbrook CA, where he had worked in the pet industry since 1984. Having always had a passion about nature, he earned his degree in Environmental Biology from Humboldt State University with emphasis in Orniothology and Herpetology. Dan has always had a real interest in birds and has been a licensed Falconer since 1983. Dan and his partner share their home with Myrah the Vizsla, Daquita the Jack Russel x Chiuhuahua, assorted finches and softbills, small hookbills, 2 Rosy Boas and a modest collection of Poison Dart Frogs.
---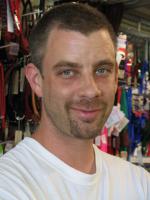 Jeremy - Floor Manager A North Carolina transplant, Jeremy has been with Arcata Pet since 2003. He earned his degrees in English and History, with a minor in CIS from Humboldt State University in 2000. He currently shares his life with 4 dogs, an African Grey named Django, and 2 adopted leopard geckos. In his free time he enjoys mowing his lawn on his riding lawn mower while drinking a beer.
---