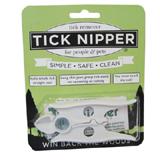 Win back the woods!
A safe, fast tick remover for both people and pets! The Tick Nipper has a special feature: A magnifying lens so one can see more clearly! With the Tick Nipper you'll always be safe because:
You can grasp the tick anywhere along the instrument's jaws, not just the tip.
The thin jaws slide under the tick's body without squeezing it.
The big stops between the handles keep the jaws from damaging the tick as you pull it out.
The bowl-shaped jaws contain the tick safely after removal.
The 20X lens in the hub helps confirm the tick's removal.
The instrument fits neatly into your pocket so it will always be nearby when you need it most!


Manufacturer: Joslyn Designs Inc.
See all products from Joslyn Designs Inc.
Visit Manufacturer's website: www.theticknipper.com
Tick Nipper Tick Remover Tool
EAN: 0733073000010
Condition:New