Description is below picture. MouseOver for larger image.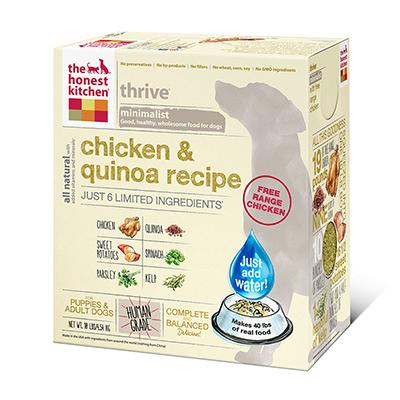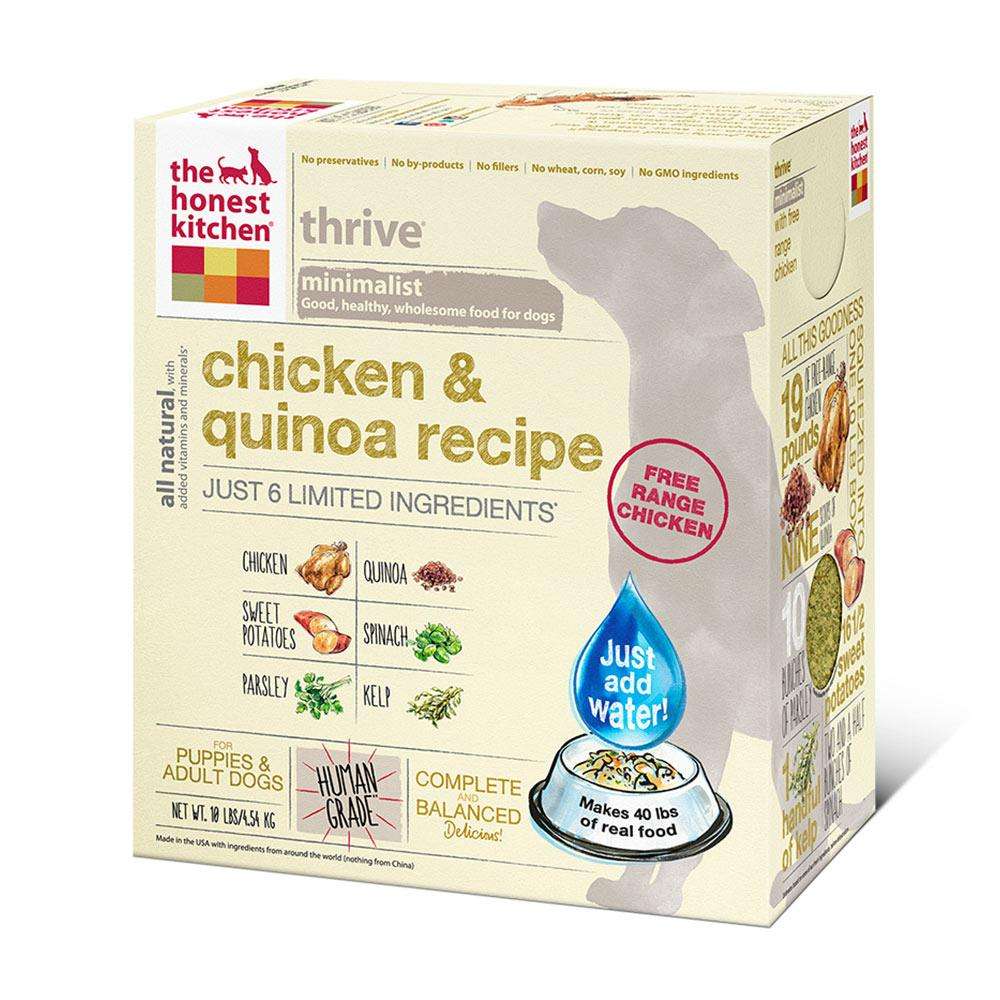 Thrive is a low carbohydrate dog food that contains the Bolivian seed, Quinoa. Thrive dog food is another gluten-free dog food from the Honest Kitchen's holistic dog food line, this is an excellent option for dogs with sensitive stomachs, any kind of intolerance to glutinous grains, or that benefit from excluding potatoes, flax, and fruit from their diets.

Ingredients: Dehydrated chicken, organic quinoa, sweet potatoes, spinach, parsley, organic kelp, rosemary, tricalcium phosphate, choline chloride, zinc amino acid chelate, vitamin d3 supplement, vitamin E supplement, potassium iodide, potassium chloride, iron amino acid chelate, copper amino acid chelate.

Life Stages: All life stages; puppies, pregnancy, lactation, active adult dogs & healthy seniors. Low Carbohydrate: 38%.

Never heard of Quinoa? Pronounced Keen-Wah, it's a treasured ancient seed from Bolivia in South America. The Quinoa used in Thrive is fair-trade, sustainably grown and 100% certified organic.

Naturally gluten-free, Quinoa is a valuable source of complete protein. It contains every single amino acid and is especially well-endowed with the amino acid lysine, which is essential for tissue growth and repair. In addition to protein, quinoa features a host of other health-building nutrients.
Guaranteed Analysis
Crude Protein
26.0% (min)
Crude Fat
19.0% (min)
Crude Fiber
6.3% (max)
Moisture
7.26% (max)
Calcium
1.28% (min)
1.68% (max)
Phosphorus
0.90% (min)
1.20% (max)
Sodium
0.21% (min)
0.34% (max)
Magnesium
0.17% (min)
0.19% (max)
Folic Acid
0.53% mg/kg (min)
Feeding Guidelines
Hydration
Each dry-measured cup should be mixed with 1 to 1.5 cups of warm water, and will yield about 1lb of fresh food. The fresh food consistency will resemble oatmeal or stew.
When Hydrated
4 oz. Makes approximately 1 lb of fresh food.
4 lbs Makes approximately 16 to 17 lbs of fresh food.
10 lbs Makes approximately 40 lbs of fresh food.
Hydrate with fresh, warm water. After hydration, a process that takes just 5 to 10 minutes, these foods should be consumed right away. Any leftover food should be treated like fresh food, and refrigerated up to 48 hours or discarded.
The following daily amounts (DRY quantity) should be adjusted to suit your individual dog's requirements, which vary according to age, breed and level of daily activity.
Dog's Weight.....Less Active.......Very Active
Up to 10 lbs.........1/2 Cup...........1 Cup
Up to 30 lbs.........1 Cup.............2 Cups
Up to 50 lbs.........2 Cups............4 Cups
Up to 70 lbs.........2 1/4 Cups........4 1/2 Cups
Up to 90 lbs.........2 3/4 Cups........5 1/2 Cups
A full standard US Measuring Cup of dehydrated food (which is 8 oz by volume or 4 oz by weight) will hydrate to make about 1lb of fresh food. Half to one cup of extra meat or other ingredients may be mixed in with each cup of food, once hydrated.

Manufacturer: The Honest Kitchen Inc
See all products from The Honest Kitchen Inc
Visit Manufacturer's website: www.thehonestkitchen.com
Honest Kitchen Thrive Dehydrated RAW Dog Food 10 lb
UPC: 183413000758
Condition:New