Description is below picture.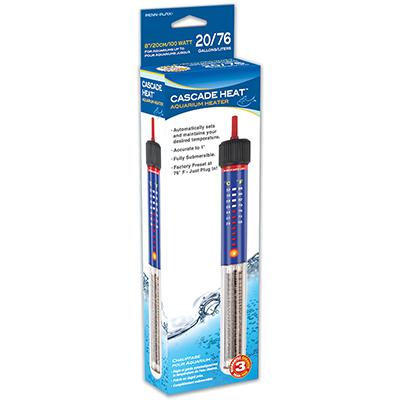 The Cascade Heater is an economical alternative in Aquarium Heating
Automatically Sets and Maintains Your Desired Temperature.
Accurate to 1 Degree
Fully Submersible
Temperate Adjustment is Easy
Waterproof with Double Insulation
Visible & Accurate Temperature Setting Scale
Easy View On/Off Light
Dual Suction cups with Mounting Clip
Heavy Duty and Shock Resistant Glass
Top Quality Heating Element with Superior Insulation and heat Distribution
For Fresh and Salt Water Aquariums !!!
From Penn Plax

Manufacturer: Penn Plax
See all products from Penn Plax
Visit Manufacturer's website: www.pennplax.com
Heater Submersible 8 inch 100 Watt for 20 Gallon Aquarium
UPC: 030172034695
Condition:New