Item 12509
Regular Online Price: $ 61.53


CloseOut! Your Price today: $ 49.99


Currently out of stock. Call or e-mail for availability info, or else click here for a form to tell us how many you wanted to order.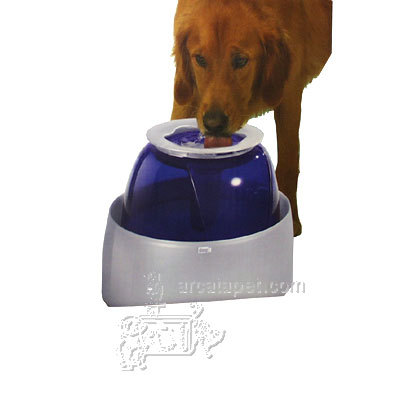 In colder weather pets are apt to not drink as much as they should, and in hot weather dogs go through a lot more water than usual. Running water will encourage more healthful drinking! The Dogit® Large Drinking Fountain for Dogs responds to your dog's need for water by providing a continuous source of fresh-tasting, cool, filtered water.

Like humans, pets require water as a vital element for survival. For a large dog, having to bend low to drink may not be particularly comfortable as it can cause strain on his neck and back muscles. This is particularly true if the dog happens to be an older dog, or if the dog has arthritis, muscle or joint problems. If drinking is painful or uncomfortable, the dog is likely to drink less -- which means he may not be drinking enough water which is essential for proper kidney function.

The Dogit® Large Drinking Fountain for Dogs encourages your pet to drink more water by providing a more comfortable drinking position. Its elevated design helps ease the strain on your dog's neck and back muscles and raises the water to his level so he can reach it more easily.

Encouraging your dog to drink more water helps ensure proper kidney function, as well as being beneficial to his overall health and well-being. Unlike the stagnant water that sits in a typical water bowl, the unique Dogit® Drinking Fountain continually re-circulates, filters and aerates your pet's water as it is constantly exposing the water to oxygen ...so it's always fresh-tasting and cool!
Elevated Drinking Basin
Provides a more comfortable drinking position
Encourages dogs to drink more water.
Ideal for older dogs, dogs with arthritis, muscle or joint problems
Integrated Splashguard
Reduces water spillage as pet drinks from basin
Protects dog's chest and neck fur from getting wet
Serves as convenient carrying handle
Re-circulating flow
Cool running water more inviting to pets
Eliminates stale, stagnant water
Large Surface Area Adds Oxygen (O2) to Water
Adds oxygen for fresher, tastier water
Beneficial to pet's health
360 degrees Rotating Dome
Dome can be rotated to position the water flow in desired direction
Large Water Capacity - dome holds 355 fl oz. (10.5 L)
Purifying Filter (Replaceable)
Collects debris, food, hair and sediment .
Helps reduce bad tastes, odors, and absorbs other impurities present in tap water
Multi-surface Drinking Areas
Suitable for multiple pets
Replacement Filter Cartridges and replacement Foam is available (see Arcata Pet item # 12510 and 12530)

Manufacturer: DogIt
See all products from DogIt
Visit Manufacturer's website: www.hagen.com
Dog-It Drinking Fountain Large
UPC: 022517736517