Description is below picture. Click for larger image.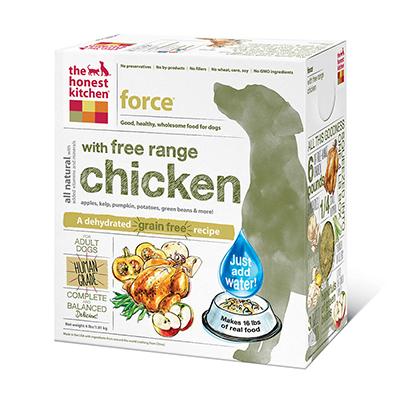 The Honest Kitchen products are guaranteed 100% human-food-grade because they are not produced in a pet food plant. They are made in an FDA approved, human-food-producing facility in Southern California, that makes the very same foods you eat.

The Honest Kitchen foods contain absolutely no by-products, added salt or sugar, chemical preservatives, artificial colors or flavors and NO beet pulp, rice, wheat, corn, or soy. These are common allergens for dogs and can cause dry, itchy skin, hair loss or dullness, lack of energy, chronic ear problems and chewing at the feet.

Life Stage: Adult maintenance; sensitive dogs; moderate activity levels

Ingredients: Dehydrated Chicken, Organic Flaxseed, Potatoes, Celery, Sweet Potatoes, apples, Alfalfa, Organic Kelp, Honey, Zucchini, Green Beans, Cabbage, Bananas, Papayas, Basil, Garlic, Rosemary, Tricalcium Phosphate, Choline Chloride, Zinc Amino Acid Chelate, Vitamin D3 Supplement, Vitamin E Supplement, Potassium Iodide, Potassium Chloride, Iron Amino Acid Chelate, Copper Amino Acid Chelate.
Guaranteed Analysis
Crude Protein
21.0% (min)
Crude Fat
14.0% (min)
Crude Fiber
5.5% (max)
Moisture
7.0% (max)
Calcium
1.6% (min)
1.8% (max)
Phosphorus
1.0% (min)
1.2% (max)
Sodium
0.2% (min)
0.38% (max)
Magnesium
0.09% (min)
0.12% (max)

Calorie content, calculated:
3930 calories per kg / 447 calories per cup.

Feeding Guidelines

Hydration
Each dry-measured cup should be mixed with 1 to 1.5 cups of warm water, and will yield about 1lb of fresh food. The fresh food consistency will resemble oatmeal or stew.

When Hydrated
4 oz. Makes about 1 lb of fresh food
4 lbs Makes about 16 to 17 lbs of fresh food
10 lbs Makes about 40 to 43 lbs of fresh food

Hydrate with fresh, warm water. After hydration, a process that takes just 5 to 10 minutes, these foods should be consumed right away. Any leftover food should be treated like fresh food, and refrigerated up to 48 hours or discarded.

The following daily amounts (DRY quantity) should be adjusted to suit your individual dog's requirements, which vary according to age, breed and level of daily activity.

Dog's Weight.....Less Active.......Very Active
Up to 10 lbs.........1/2 Cup...........1 Cup
Up to 30 lbs.........1 Cup.............2 Cups
Up to 50 lbs.........2 Cups............4 Cups
Up to 70 lbs.........2 1/4 Cups........4 1/2 Cups
Up to 90 lbs.........2 3/4 Cups........5 1/2 Cups

A full standard US Measuring Cup of dehydrated food (which is 8 oz by volume or 4 oz by weight) will hydrate to make about 1lb of fresh food. Half to one cup of extra meat or other ingredients may be mixed in with each cup of food, once hydrated.

Manufacturer: The Honest Kitchen Inc
See all products from The Honest Kitchen Inc
Visit Manufacturer's website: www.thehonestkitchen.com
Honest Kitchen Force Dehydrated RAW Dog Food 4 lb
UPC: 183413000079