Item 13221
Regular Online Price: $ 24.13


CloseOut! Your Price today: $ 17.99


Currently out of stock. Call or e-mail for availability info, or else click here for a form to tell us how many you wanted to order.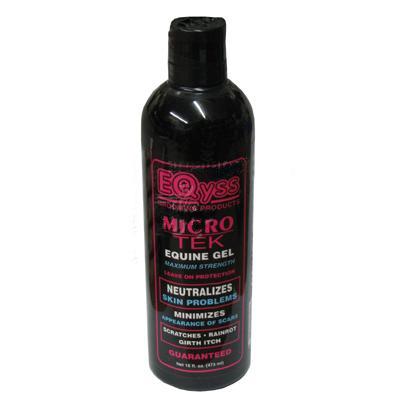 Some of the Eqyss products have recently had their labels, ingredient wording, and order of ingredient listing changed. This has caused speculation that the products are not the same and/or are not as effective as they used to be; however this is not true. Eqyss products have NOT changed their ingredients for over 21 years. The wording was changed to facilitate sales in international markets and the order of ingredient listing was changed to reflect the amount of the ingredient relative to other ingredients. Eqyss has published a letter explaining this, which you can view by clicking here.
Can be used on open wounds without fear of stinging or burning!
Safe, gentle, effective and recommended for use on genital areas.
Ideal for use on the saddled areas where non-slip qualities are a must.
Feel good with the knowledge that this is a non-toxic, steroid-free, alcohol-free and environmentally friendly product!
Use as often as needed; WILL NOT damage skin or coat!
EQyss Micro-Tek Equine Gel neutralizes skin problems and minimizes the appearance of scars. Great for Scratches, Rainrot and Girth Itch. It's a fast acting gel that neutralizes skin problems, and provides leave-on protection which continues to work for over 24 hours. Promotes healthy skin and coat by controlling conditions associated with skin problems.

EQyss Micro-Tek Equine Gel is a great winter alternative for MicroTek Spray. It has all the effectiveness of Micro-Tek Spray in a GEL concentrate with an aloe vera base. Wonderful for pets who don't like to be sprayed or for use in the winter when it's too cold to spray.

Micro-Tek Gel contains a trademarked formula developed from NASA research on the decontamination of astronauts.
Important: Please read!
Eqyss Micro-Tek Equine Gel should not be used with other medicated shampoos or sprays. This is particularly critical with products that contain iodine or betadine because a reaction can occur.

Ingredients:
Deionized Water, Sodium PCA, Hydroxyethylcellulose, Cetrimonium Chloride, Glycosaminoglycans, Allantoin, Trichlocarban, Aloe Barbadensis Gel, Clove Extract, Lavender Extract, Thyme Extract, Polysorbate 20, Polysorbate 80, Citric Acid, Triethanolamine, Tetrasodium EDTA, Methylparaben, DM Hydantoin, Fragrance

Net Weight: 16oz

Manufacturer: Eqyss
See all products from Eqyss
Visit Manufacturer's website: www.eqyss.com
EQyss Micro-Tek Gel 16 oz
UPC: 786232105453
Condition:New