Description is below picture. Click for larger image.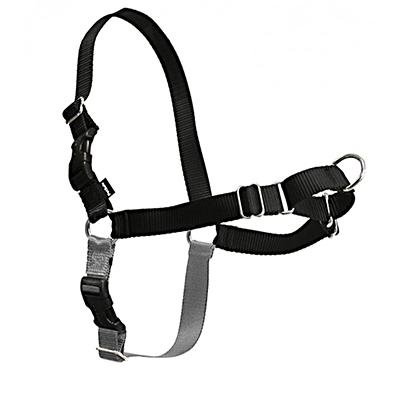 And now the Easy Walk Harness is available in a new "Tweener" size: - Med/Large. Designed to fit dogs whose girth and chest proportions do not fit within the other 5 traditional sizes, this"Tweener" size bridges the gap. Dogs with especially broad or narrow chests may get a more accurate fit with Tweeners. The M/L size accommodates dogs with girth measurements of 25"-35"

The Gentle Leader® Easy Walk™ Harness is easy to fit, easy to use and stops leash pulling quickly and comfortably, without choking your pet. Dogs and their owners love it!

Quality features:
Two quick snap buckles-one on the shoulder, one on the belly-makes it easier to get the harness on and off.
Soft nylon and 4 adjustment points provide custom superior fit and maximum comfort.
Unique martingale chest loop reduces gapping and redirects forward motion.
The belly strap is an convenient different complimentary color which allows you to tell up from down easily.
Unlike traditional collars, the Gentle Leader® Easy Walk™ Harness never causes coughing, gagging, or choking because the chest strap rests low across the breastbone, not on the delicate tracheal area.

Why it works: Traditional harnesses can actually encourage dogs to pull harder because of the "opposition reflex." That's the reflex that makes sled dogs do what they do. The Gentle Leader® Easy Walk™ Harness redirects the pressure through the front leash attachment. And, our patent pending martingale closure tightens slightly across the chest and shoulder blades when your dog attempts to pull forward.

Comes with a full set of instructions

Medium/Large Tweener size girth adjusts from 25"-35". Suggested breed sizes are Border Collies, Spaniels, Labs, Goldens and like-size dogs.

LEASH NOT INCLUDED From Premier

Manufacturer: Premier Pet Prod
See all products from Premier Pet Prod
Visit Manufacturer's website: www.premierpet.com
Easy Walk Dog Harness Tweener Medium Large Black
UPC: 759023073453