Description is below picture. Click for larger image.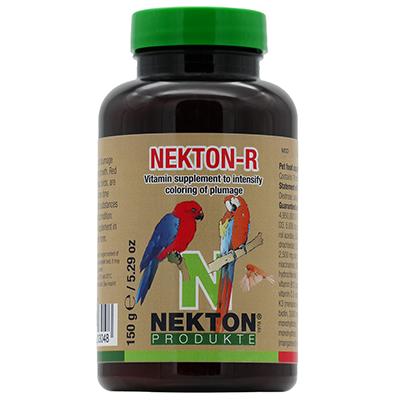 Bird supplement that intensifies the red areas of feathers
Contains 18 amino acids
NEKTON-R is a product that contains all the essential vitamins, amino acids, minerals, trace elements, and a natural colorant in balanced proportions. Its primary purpose is to prevent fading of feather colors and enhance the natural shine and brightness of the bird's entire plumage. This product provides the bird with all the necessary nutrients required during the molting/feathering process, thanks to its vitamin complex.
The colorant used in NEKTON-R is called lipochrome, which is identical to the natural substance and thus safe for birds. In fact, lipochrome is commonly used in the food industry to color food products. Carotenoids are essential for colored feathers, and NEKTON-R contains an optimal level of them.
NEKTON-R should be administered to birds in their drinking water or soft feed from the beginning of molting/feathering until the end of molting, or as soon as the bird's color is fully restored. It is important to note that no other vitamin compounds should be given to the bird while using NEKTON-R.
How to feed:
1g (0.035oz, measuring spoon included) NEKTON-R to 250 ml (8.5oz.) water or 100g (3.4 oz.)soft food. Use only immediately before and during the molt. Do not use with any other vitamin supplements.
Storage:
NEKTON-R should be stored dry and out of sunlight, between 15° and 25° C (59° and 77° F). DO NOT STORE IN THE FRIDGE !!!


Composition:
Dextrose, silicic acid, calcium carbonate

Nutritional additives per kg (2.2lbs):
4,950,000 IU vitamin A, 7,500 IU vitamin D3, 5,000 mg vitamin E, 500 mg vitamin B1 (thiamine hydrochloride), 1,260 mg vitamin B2 (riboflavin), 2,500 mg calcium-D pantothenate, 7,500 mg nicotinamide, 500 mg vitamin B6 (pyridoxine hydrochloride), 168 mg folic acid, 1,500 µg vitamin B12 (cyanocobalamine), 12,500 mg vitamin C (L-ascorbic acid) 1,000 mg vitamin K3 (menadione-sodiumbisulfite), 30,000 µg biotin, 2,500 mg iron (ferrous(II)-sulfate, monohydrate), 1,220 mg zinc (zinc sulfate, monohydrate), 1,250 mg manganese (manganese(II) sulfate, monohydrate ), 200 mg copper (cuperic(II)-sulfate, pentahydrate), 100 mg iodine (calcium iodate, free of water)

Sensory additive:
dye

Available in 3 sizes: 35g (1.23oz), 150g (5.29oz), 700g (24.69oz).



Manufacturer: Nekton
See all products from Nekton
Visit Manufacturer's website: www.nekton.net
Nekton-R Enhances Red Color in Birds 150g (5.29oz)
EAN: 0733309203048