Description is below picture. Click for larger image.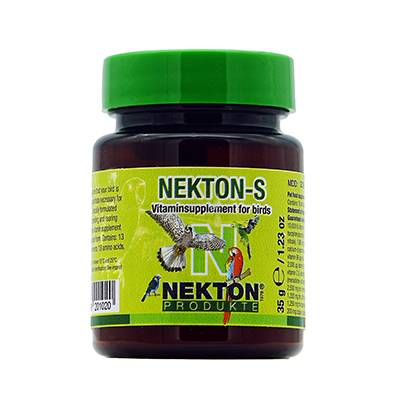 Multivitamin compound for all species of birds
See also
75 Gram
150 Gram
330 Gram
700 Gram


This essential preparation for all bird species includes vitamins, amino acids, minerals, and trace elements necessary for a long and healthy life. It's strongly recommended to supplement your bird's diet daily to prevent an insufficient intake of these nutrients, as it's usually difficult to detect when birds lack them. In our experience, a significant proportion of diseases in birds stem from inadequate feeding, which results in a lack of nutrients. NEKTON-S is an effective solution to this problem, as it has been successfully used for over 40 years by zoos, animal parks, breeders, and bird enthusiasts.

NEKTON-S provides all essential vitamins and is also enriched with amino acids, minerals, and trace elements. A lack of vitamins (hypovitaminosis) may go unnoticed in birds, but it can lead to severe health problems or even the loss of the animal if left untreated. Inadequate feeding is the root cause of approximately 90% of all bird diseases.

NEKTON-S supports the bird's metabolic processes and improves the utilization of all ingested nutrients. It has been extremely successful worldwide for over 40 years and is administered daily through drinking water. Birds love it, and it's an excellent combination with NEKTON-MSA (mineral preparation) and NEKTON-E (for breeding).
How to feed:
1g (0.035 oz) of NEKTON-S to 250ml (8.45 fl.oz.) of water or 100g (3.53 oz) of soft food.
One level measuring spoon (enclosed) corresponds to 1 g (0.035 oz) of NEKTON-S.
Due to the higher content of vitamin D and trace elements compared to complete feeds, this supplementary feed may only be fed to birds up to 5% of the daily ration.
Storage:
NEKTON-S should be stored dry and out of sunlight, between 15° and 25° C (59° and 77° F) DO NOT STORE IN THE FRIDGE !!!


Composition:
Dextrose, calcium carbonate

Technological additive:
Sepiolite 5,000mg/Kg, silicic acid

Nutritional additives per kg (2.2lbs):
6,600,000 IU vitamin A, 10,000 IU vitamin D3, 6,665 mg vitamin E (all-rac-alpha-tocopheryl acetate), 670 mg vitamin B1 (thiamine hydrochloride), 1,680 mg vitamin B2 (riboflavin), 3,300 mg calcium D-pantothenate, 10,000 mg niacinamide, 670 mg vitamin B6 (pyridoxine hydrochloride), 225 mg folic acid, 2,000 µg vitamin B12 (cyanocobalamin), 16,670 mg vitamin C (L-ascorbic acid), 1,330 mg vitamin K3 (menadione sodium bisulfite), 30,000 µg biotin, 2,500 mg iron (ferrous(II) sulphate, monohydrate), 1,220 mg zinc (zinc sulphate, monohydrate), 1,250 mg manganese (manganese (II) sulphate, monohydrate), 200 mg copper (copper(II) sulphate, pentahydrate), 100 mg iodine (calcium iodate, anhydrous).

Available in 5 sizes: 35g (1.23oz), 75g (2.65oz), 150g (5.29oz), 330g (11.64oz), 700g (24.69oz)



Manufacturer: Nekton
See all products from Nekton
Visit Manufacturer's website: www.nekton.net
Nekton-S Multi-Vitamin For Birds 35g (1.23oz)
EAN: 0733309201020