Description is below picture. Click for larger image.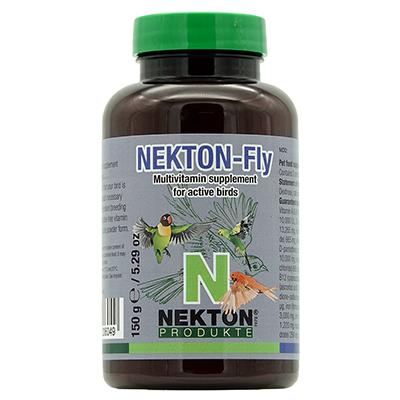 Multivitamin for active birds
Contains 2 amino acids
NEKTON-Fly (formerly Nekton-T) is a bird supplement that contains 13 vitamins, 6 trace elements, 2 amino acids, calcium, and minerals. It is designed for birds that need a lot of energy for flying and laying eggs. NEKTON-Fly can help birds grow, perform well, and lay more eggs. It also helps with their metabolism. Nekton-Fly is ideal for racing pigeons, raptors, poultry, and other game birds. If your bird needs to take antibiotics or sulfonamides, NEKTON-Fly can help because these treatments increase their need for vitamins and minerals.
NEKTON-Fly is easy to use - you can put it in their drinking water or mix it with soft food. It works best when combined with NEKTON-MSA, which is a mineral supplement. You should not give your bird any other vitamin supplements while they are taking NEKTON-Fly.
NEKTON-Fly is a great supplement to help with the treatment of illnesses in birds, especially when antibiotics or sulfonamides are given. These medicines can harm the good bacteria in the bird's gut, and NEKTON-Fly provides extra vitamins to help counteract this.
In addition, NEKTON-Fly also contains calcium which is crucial for healthy bone and eggshell formation, especially in young birds. It also has enough trace elements and minerals to meet the bird's needs.
How to feed:
1g (0.035oz) of NEKTON-Fly to 250ml (8.5oz) of water or 100g (3.5oz) of soft food. One level measuring spoon (enclosed) corresponds to 1g (0.035oz) of NEKTON-Fly.

Due to the higher content of vitamin D and trace elements compared to complete feeds, this supplementary feed may only be fed to birds up to 5% of the daily ration.
Storage:
NEKTON-Fly should be stored dry and out of sunlight, between 15° and 25° C (59° and 77° F). DO NOT STORE IN THE FRIDGE !!!


Composition:
Dextrose, calcium carbonate

Technological additive:
Silica

Analytical constituents:
Crude protein 1.0 %, crude oils and fats 0.2 %, raw fi ber 0 %, crude ash 3.4 %, calcium 0.1 %, sodium 0 %, phosphorous 0.2 %

Nutritional additives per Kg:
6,600,000 IU vitamin A, 10,000 IU vitamin D3, 13,265 mg vitamin E (all-rac-alpha-tocopheryl acetate), 665 mg vitamin B1 (thiamine mononitrate), 1,680 mg vitamin B2 (riboflavin), 3,330 mg calcium D-pantothenate, 10,000 mg niacinamide, 665 mg vitamin B6 (pyridoxine hydrochloride), 224 mg folic acid, 2,000 µg vitamin B12 (cyanocobalamin), 16,660 mg vitamin C (L-ascorbic acid), 1,330 mg vitamin K3 (menadione sodium bisulfite), 50,000 µg biotin, 2,500 mg iron (ferrous sulphate, monohydrate), 1,220 mg zinc (zinc sulphate, monohydrate), 1,250 mg manganese (manganese (II) sulphate, monohydrate), 200 mg copper (copper(II) sulphate, pentahydrate), 100 mg iodine (calcium iodate, anhydrous)

Available in 3 sizes: 75g (2.65oz), 150g (5.29oz), 600g (21.16oz).



Manufacturer: Nekton
See all products from Nekton
Visit Manufacturer's website: www.nekton.net
Nekton-Fly Supplement for Active Birds 150g (5.29oz)
EAN: 0733309206049