Description is below picture. Click for larger image.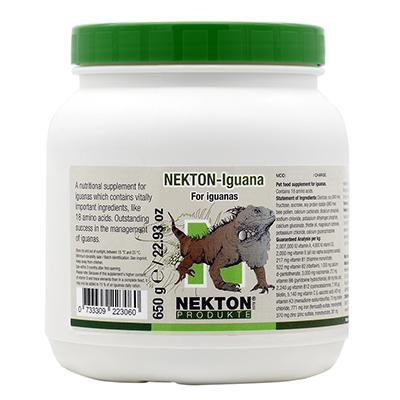 Vitamin and development supplement for green iguanas and herbivorous reptiles.
Using NEKTON-Iguana ensures the development of your iguana's skeletal system and supports the natural shedding process. It also helps protect against nervous system disorders and maintains the health of the mucous membranes. In addition, NEKTON-Iguana strengthens your iguana's body, especially during stressful times like shedding, adjusting to new environments, or when being moved or transported.
When you add NEKTON-Iguana to your iguana's diet, it significantly enhances the nutritional value of their regular food. This supplement effectively prevents deficiency symptoms and boosts your iguana's activity levels. Please note that while using NEKTON-Iguana, there's no need to administer any other vitamin compounds. NEKTON-Iguana provides essential nutrients to support your iguana's health.The protein in NEKTON-Iguana is already broken down into its building blocks, amino acids, making it readily available for natural protein synthesis. It contains almost all the necessary amino acids, effectively supplementing your pet's protein requirements.
Since vitamins cannot be produced in sufficient amounts by the animal itself, they must be added to the diet. Vitamin deficiency can have serious and irreversible effects on animals. In iguanas, a lack of vitamins (avitaminosis) can result in a pale, gray-green skin color, crest point die-off, joint swelling, paralysis, convulsions, and other symptoms such as shedding disorders. NEKTON-Iguana is carefully formulated to provide the necessary vitamins to meet your iguana's daily requirements. Calcium and phosphates play a crucial role in bone development. NEKTON-Iguana is rich in calcium and also contains added vitamin D3, which enhances the absorption and utilization of calcium and phosphorous, ensuring healthy bone growth.
How to feed:
Young animals up to 30 cm (11.8 inches) overall length: approximately 0.25 g (¼ measuring spoon) of NEKTON-Iguana per animal per day.
Adolescents up to 60 cm (23.6 inches) overall length: 0.5 g (½ measuring spoon) of NEKTON-Iguana per animal per day.
Fully grown animals up to 60 cm (23.6 inches) long: 1 g (1 measuring spoon) of NEKTON-Iguana per animal per day.

A green measuring spoon is attached to each bottle of NEKTON-Iguana. 1 g of NEKTON-Iguana corresponds to one measuring spoon. Fully grown animals that are ill, weak, or stressed should receive a daily dose of 1 g of NEKTON-Iguana during stressful situations. Due to this supplement's higher content of vitamin D and trace elements compared to a complete feed, it should only be added to 15% of an iguana's daily ration.
Storage:
NEKTON-Iguana should be stored dry and out of sunlight, between 15° and 25° C (59° and 77° F). DO NOT STORE IN THE FRIDGE !!!

Composition:
Dextrose, bee pollen, soy protein isolate (GMO-free), soy (GMO-free), sodium chloride, calcium glycerophosphate, calcium carbonate, potassium dihydrogen phosphate, calcium gluconate, dicalcium phosphate, fructose, potassium chloride, magnesium carbonate, sucrose, safflower oil.

Technological additive:
Sorbic acid, silicic acid

Nutritional additives per kg (2.2lbs):
2,007,000 I.U. vitamin A, 4,800 I.U. vitamin D3, 2,000 mg vitamin E (all rac-alpha-tocopheryl acetate), 217 mg vitamin B1 (thiamine mononitrate), 522 mg vitamin B2 (riboflavin), 1,000 mg calcium-d-pantothenate, 3,000 mg niacinamide, 212 mg vitamin B6 (pyridoxine hydrochloride), 68 mg folic acid, 2,240 µg vitamin B12 (cyanocobalamine), 7,160 µg biotin, 5,140 mg vitamin C (L-ascorbic acid), 405 mg vitamin K3 (menadione- sodiumbisulfite), 70 mg choline chloride, 771 mg iron (ferrous(II)-sulfate, monohydrate), 370 mg zinc (zinc sulfate, monohydrate), 381 mg manganese (manganese(II)-sulfate, monohydrate), 66 mg copper (cupric(II)-sulfate, pentahydrate), 30 mg iodine (calcium iodate, free of water).

Available in 3 sizes: 40g (1.41oz), 220g (7.76oz), 650g (22.93oz).



Manufacturer: Nekton
See all products from Nekton
Visit Manufacturer's website: www.nekton.net
Nekton-Iguana Vitamins and Amino Acids 650g (1.43lbs)
EAN: 0733309223060