Description is below picture. Click for larger image.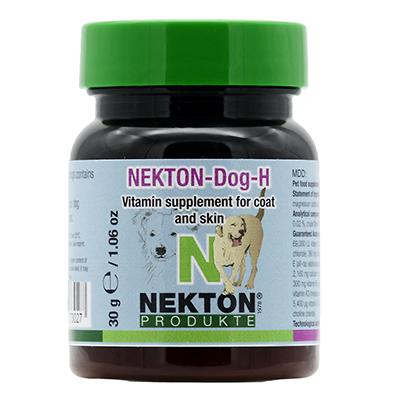 Vitamin supplement to improve the skin and coat for dogs.
NEKTON-Dog-H is a specialized vitamin supplement designed to meet all the essential vitamin needs of dogs. It contains a generous amount of biotin. This high biotin content ensures dogs have beautiful, shiny coats and optimal fur development. NEKTON-Dog-H is highly effective in addressing issues like rough and brittle coats, unnatural light spots, or changes in the skin.
Biotin plays a crucial role in various metabolic reactions and supports the overall growth, feeding, and reproduction of dogs. It specifically contributes to the health and condition of their skin and fur. When using NEKTON-Dog-H, it is important to avoid administering any other vitamin supplements simultaneously.
In many cases, animals are unable to produce enough biotin on their own, which is why it needs to be provided externally. When dogs lack sufficient biotin, they quickly display typical signs of biotin deficiency. This deficiency manifests as brittle, dry, and dull fur, often accompanied by graying hair that eventually becomes brittle and falls out. Additionally, biotin deficiency can affect the dog's skin, causing flakiness and a faded appearance. In more severe cases, it may even lead to eczema and itching.
Another factor contributing to biotin deficiency is the use of antibiotics or sulfonamides. Certain proteins, like avidin found in raw egg whites and turkey chicks, can bind to biotin and render it unusable for dogs.
Once NEKTON-Dog-H is used for a short period and the symptoms have improved, it is recommended to switch to NEKTON-Dog-VM as a supplement.
How to feed:
Dosage according to body weight:

0-5 Kg (0-11 lbs) body weight - 0.5 g (0.0176 oz) NEKTON-Dog-H every 2 days
5-10 Kg (11-22 lbs) body weight - 0.5 g (0.0176 oz) NEKTON-Dog-H every day
10-15 Kg (22-33 lbs) body weight - 0.75 g (0.0265 oz) NEKTON-Dog-H every day
Proceed accordingly for heavier body weights.
Because this supplement has a higher vitamin D content than a complete feed, it should only make up 2.5% of a dog's daily ration.
A green measuring spoon is provided with each bottle of NEKTON-Dog-H. One measuring spoon corresponds to 1g (0.0353 oz) of NEKTON-Dog-H.
Storage:
NEKTON-Dog-H should be stored dry and out of sunlight, between 15° and 25° C (59° and 77° F). DO NOT STORE IN THE FRIDGE !!!

Composition:
Dextrose, calcium carbonate, magnesium carbonate.

Technological additive:
Silicic acid

Analytical constituents:
Crude protein 0.2 %, crude fat 0.02 %, crude fiber 0.1 %, crude ash 4 %, Ca 1.1 %

Nutritional additives per kg (2.2lbs):
1,350,500 I.U. vitamin A, 69,000 I.U. vitamin D3, 220 mg vitamin B1 (thiamine mononitrate), 360 mg vitamin B2 (riboflavin), 10,400 mg vitamin E (all-rac-alpha-tocopherylacetate), 1,972,000 µg biotin, 2,160 mg calcium-d-pantothenate, 2,150 mg niacinamide, 300 mg vitamin B6 (pyridoxine hydrochloride), 220 mg vitamin K3 (menadione-sodiumbisulfite), 50 mg folic acid, 5,400 µg vitamin B12 (cyanocobalamine), 14,820 mg choline chloride

Available in 2 sizes: 30g (1.06oz), 120g (4.23oz).



Manufacturer: Nekton
See all products from Nekton
Visit Manufacturer's website: www.nekton.net
Nekton-Dog-H Skin and Coat Supplement 30g (1oz)
EAN: 0733309273027