Description is below picture. Click for larger image.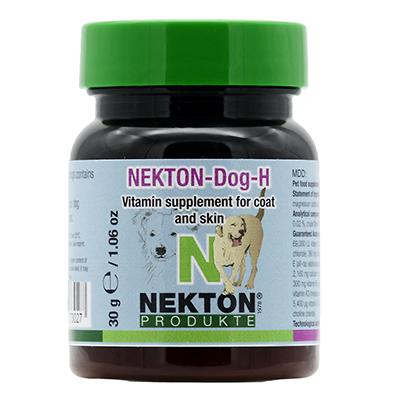 Vitamin supplement with a high percentage of biotin
Reverses and prevents skin and coat issues due to biotin deficiency
Imported from Germany
Nekton-Dog-H is a vitamin supplement with a high percentage of biotin. Biotin will often correct many skin and coat issues in dogs. Because biotin often cannot be synthesized by dogs themselves, it is important to make sure they obtain enough of it. Symptoms of biotin deficiency include dull, brittle, and dry hair, premature graying, bald patches, pale and scaly skin, and even eczema in severe cases. Nekton-Dog-H will ensure your dog is getting an appropriate amount of all the necessary vitamins and extra biotin to improve skin and coat.
Nekton has created a range of dog and cat supplements because no one supplement can cover all requirements in all situations. Nekton-Dog-VM is a vitamin, mineral, and trace element supplement for dogs of all ages. Nekton- Dog-V is a vitamin-only supplement available for dog owners who need to tune their dog's unique vitamin needs. New from Nekton is Natural Plus for dogs, a premier prebiotic and wellbeing supplement for dogs. Be sure to check it out, it's really amazing!
Decades of use in zoos, wildlife parks, and veterinary hospitals demonstrate a track record that is second to none in the pet industry. Nekton supplements set themselves apart from other offerings due to the quality of the raw materials used in their production and, more importantly, the proportion of these materials to one another in each product.
Guaranteed Analysis per 1000g: Crude protein min. 14%, crude fat min. 2.2%, crude fiber min. 0.1%, moisture max. 5%, vitamin A 1,350,500 I.U., vitamin D3 69,000 I.U., vitamin E 10,415 mg, thiamine 220 mg, riboflavin 360 mg, d-pantothenic acid 2,160 mg, niacinamide 2,190 mg, vitamin B6 300 mg, folic acid 42 mg, vitamin B12 27,000 mcg, menadione 225 mg, biotin 1,972,000 mcg, choline 14,820 mg.
Ingredients: Calcium carbonate, lactose, talc, choline chloride, dried skimmed milk, DL- alpha-tocopherol acetate, niacinamide, d-cacium pantothenate, artificial meat flavoring, biotin, vitamin A, magnesium stearate, riboflavin, pyridoxine hydrochloride, menadione sodium bisulfite, thiamine hydrochloride, cholecalciferol (vit. D3), folic acid, cyanocobalamin (vit. B12).
USAGE

NEKTON-Dog-H is easy to administer Each jar contains a measuring spoon holding 1 g.

Recommended Daily Dose:
Half a measuring spoonful every other day for dogs up to 5 kilos (approx. 11lb.) body weight. Half a measuring spoonful daily for dogs up to 10 kilos (approx. 22lb.) body weight. 1 measuring spoonful daily for dogs up to 20 kilos (approx. 44lb.) body weight etc.
Net Weight: 30g

Manufacturer: Nekton
See all products from Nekton
Visit Manufacturer's website: www.nekton.net
Nekton-Dog-H Canine Vitamin Supplement 30g (1oz)
EAN: 0733309273027