Description is below picture. Click for larger image.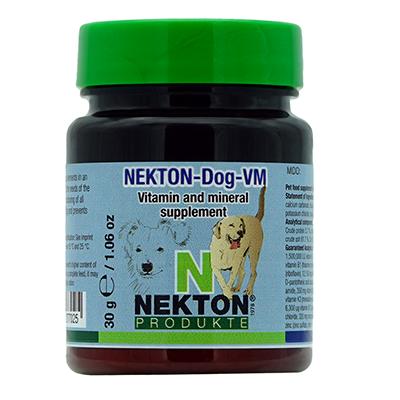 Vitamins, Minerals, and Trace Elements for Dogs
Dogs require essential substances like vitamins, minerals, and trace elements, which their bodies either don't produce or produce in insufficient quantities. These substances need to be provided through their diet. NEKTON-Dog- VM contains carefully selected ingredients that meet the specific needs of dogs. By using NEKTON-Dog-VM, you can prevent deficiencies caused by diet and promote a well-regulated metabolism. It is an excellent supplement for ensuring optimal vitamin and mineral intake for your dog. Please note that no other vitamin supplements should be given while using NEKTON-Dog-VM.
Vitamins play a crucial role in the overall well-being of animals. However, during the preparation of animal feed, many vitamins can be easily damaged or destroyed by oxygen, light, and heat. That's why it's highly recommended to provide additional vitamin supplementation. NEKTON-Dog-VM is readily accepted when mixed with food. It's important to note that older dogs may require double the normal amount of vitamins. Increased vitamin intake is particularly important for sick, weak, and breeding animals. Additionally, dogs with gastrointestinal illnesses, kidney disorders, internal parasite infestations, or those undergoing treatment with sulfonamide or antibiotics may have higher vitamin requirements.
How to feed:
A measuring spoon is included inside each bottle of NEKTON-Dog-VM. 1g of NEKTON-Dog-VM corresponds to one measuring spoon.
0-5 kg (0-11lbs) body weight - 0.5 g NEKTON-Dog-VM every 2 days
5-10 kg (11-22lbs) body weight - 0.5 g NEKTON-Dog-VM every day
10-15 kg (22-33lbs) body weight - 0.75 g NEKTON-Dog-VM every day

Old and young growing dogs require one and a half times this dosage. Because of this supplement's higher content of vitamin D and trace elements than in a complete feed, it may only be added to 1.5 % of a dog's daily ration.
Storage:
NEKTON-Dog-VM should be stored dry and out of sunlight, between 15° and 25° C (59° and 77° F). DO NOT STORE IN THE FRIDGE !!!

Composition:
Calcium carbonate, dicalcium phosphate, sodium chloride, potassium chloride, magnesium carbonate.

Technological additive:
Silicic acid.

Analytical constituents:
Crude protein 3.7 %, crude fat 1.3 %, crude fiber 0.1 %, crude ash 80 %, calcium 18 %, phosphor 8 %, sodium 8.5 %.

Nutritional additives per kg (2.2lbs):
1,500,000 I.U. vitamin A, 115,000 I.U. vitamin D3, 260 mg vitamin B1 (thiamine hydrochloride), 420 mg vitamin B2 (riboflavin), 12,150 mg vitamin E (all-rac-alpha-tocopherylacetate), 25,200 µg biotin, 2,520 mg calcium-d-pantothenate, 2,555 mg niacinamide, 350 mg vitamin B6 (pyridoxine hydrochloride), 260 mg vitamin K3 (menadione-sodium bisulfite), 60 mg folic acid, 6,300 µg vitamin B12 (cyanocobalamine), 47,500 mg choline chloride, 320 mg manganese (manganese(II)-sulfate, monohydrate), 3,168 mg zinc (zinc sulfate, monohydrate), 250 mg copper (cupric(II)-sulfate, pentahydrate), 2,470 mg iron (ferrous(II)-sulfate, monohydrate), 62 mg iodine (calcium iodate, free of water).

Available in 2 sizes: 30g (1.06oz), 120g (4.23oz).



Manufacturer: Nekton
See all products from Nekton
Visit Manufacturer's website: www.nekton.net
Nekton-Dog-VM Canine Vitamin, Mineral, Trace Supplement 30g
EAN: 0733309277025