Description is below picture. Click for larger image.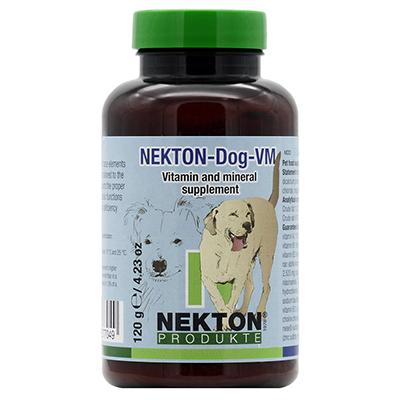 Vitamin, mineral, and trace element supplement for dogs of any life stage
Highly palatable
Imported from Germany
Nekton-Dog-VM is a vitamin, mineral and trace element supplement for dogs of any life-stage. The vitamins and minerals added to commercial dog foods are often compromised due to the pasteurization and packaging process. As dog food is cooked in large batches, any improper temperature or other mishap in the production process can have a dramatic affect on the vitamin content of the food. Vitamins may also lose their potency over time. In developing Dog-VM, Nekton has taken all these possibilities into account. Nekton-Dog-VM makes it easy to guarantee your dog is getting the necessary vitamins, minerals, and trace elements in the proper amounts.
Nekton has created a range of dog and cat supplements because no one supplement can cover all requirements in all situations. Nekton-Dog-V is a vitamin-only supplement that allows owners to ensure their dog's unique vitamin requirements are met. Nekton-Dog-H is also available for dogs with skin and coat issues due to a biotin deficiency. New from Nekton is Natural Plus for dogs, a premier prebiotic and wellbeing supplement for dogs. Be sure to check it out, it's really amazing!
Decades of use in zoos, wildlife parks, and veterinary hospitals demonstrate a track record that is second to none in the pet industry. Nekton supplements set themselves apart from other offerings due to the quality of the raw materials used in their production and, more importantly, the proportion of these materials to one another in each product.
Guaranteed Analysis per 1000g: Crude protein min. 2%, crude fat min. 0.1%, crude fiber min. 0.1%, moisture max. 5%, Ca min. 21%, P min. 5%, Na max. 6.3%, vitamin A 1,500,00 I.U., vitamin D3 115,000 I.U., vitamin E 12,150 mg, thiamine 260 mg, riboflavin 420 mg, d-pantothenic acid 2,520 mg, niacinamide 2,555 mg, vitamin B6 350 mg, folic acid 49 mg, vitamin B12 31,500 mcg, menadione 260 mg, biotin 25,200 mcg, choline 47,500 mg, Zn 3,170 mg, Fe 2,315 mg, Mn 320 mg, Cu 250 mg, I 62 mg, Mg 16,110 mg, K 10,755 mg.
Ingredients: Calcium carbonate, sodium chloride, dicalcium phosphate, choline chloride, magnesium base, DL-alpha-tocopherol acetate, potassium chloride, lactose, zinc sulfate, niacinamide, D-calcium pantothenate, ferrous sulfate, artificial meat flavoring, vitamin A, riboflavin, pyridoxine hydrochloride, manganese sulfate, menadione sodium bisulfite, thiamine hydrochloride, copper sulfate, cholecalciferol (vit. D3), calcium iodate, folic acid, biotin cyanocobalamin (vit. B12).
USAGE

As a powder NEKTON-DOG-VM can be easily mixed with softmoist or canned food. A measuring spoon holding 1 g is enclosed

Recommended Daily Dose:
½ a measuring spoonful every other day for dogs up to 5 kilos (approx. 11 lb.) body weight. ½ a measuring spoonful daily for dogs up to 10 kilos (approx. 22 lb.) body weight. 1 measuring spoonful daily for dogs up to 20 kilos (approx. 44 lb.) body weight a.s.o.
Net Weight: 120 g (4.23 oz)

Manufacturer: Nekton
See all products from Nekton
Visit Manufacturer's website: www.nekton.net
Nekton-Dog-VM Canine Vitamin, Mineral, Trace Supplement 120g
EAN: 0733309277049