Item 16072


Your Price today: $ 101.39



Arcata Pet does not normally stock this item. We would be happy to order it for you. Time until it arrives at our shop will vary depending on supplier availability and shipping; when it arrives we would ship to you. If you would like to have us provide an estimate of delivery time, as well as shipping charges, please tell us the quantity you need, your zip code or country, and your e-mail address. We will get back to you within 24 hours with the information so that you can decide if you want to place an order.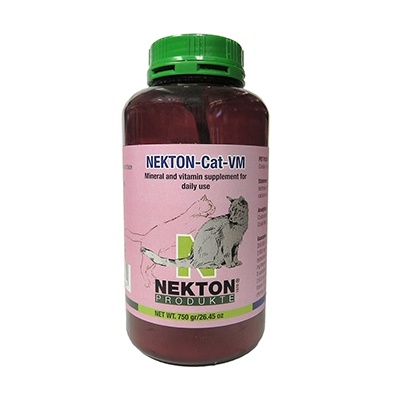 A pet food supplement containing not only all the mineral elements a cat needs but essential vitamins too.
There are many reasons why a cat owner has to have a means of supplementing their pet's diet with essential inorganic and organic compounds. Cats, for example, are unable to form retinol (vitamin A) from the pro-vitamin beta-carotene. In addition, vitamins are often destroyed or rendered ineffective when exposed to air, light or heat; or the vitamins in food lose their effectiveness over time. One of the vitamins vital to cats is vitamin B1. Quite often cat owners think their pet has been poisoned as deficiency symptoms are loss of appetite and apathy at first and later cramping and vomiting.
Our combined vitamin and mineral supplement NEKTON-CAT-M should be given daily to moist protein-rich cat food to maintain a pet's health under general conditions.
NEKTON-CAT-M provides caring cat owners with a dietary supplement to ensure healthy, happy pets. Given regularly cats will reward their owners with lively affection and beautiful fur.
Click here for complete product details in PDF format.
USAGE and DOSAGE
NEKTON-CAT-M is in powder form and should be mixed with the food every day. It has an appetising taste and is generally enjoyed by cats.
Using the measuring spoon enclosed in each jar of NEKTONCAT- M add the powder as follows:
Adult cats: 1 spoonful daily
Kittens and mother cats during gestation and lactation: 2 spoonfuls daily
Older cats: 1 spoonful one day and 2 spoonfuls every other day Keep strictly to above doses.
Please note
Because of this supplement's higher content of vitamin D and trace elements than in a complete feed, it may only be added to 20% of a cat's daily ration.
Imported From Germany
Wholesale pricing is available for resellers and other volume buyers for this product. Please call or e-mail for details.

Manufacturer: Nekton
See all products from Nekton
Visit Manufacturer's website: www.nekton.net
Nekton-Cat VM Feline Food Supplement 750g (1.65lbs)
UPC: 733309283064