Description is below picture. Click for larger image.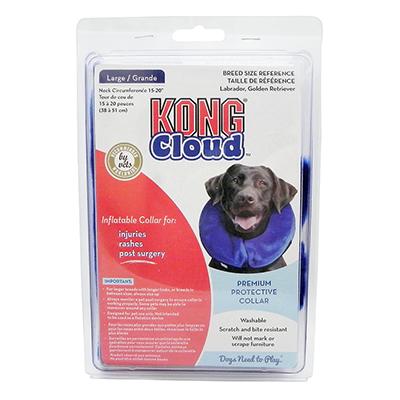 New in the marketplace, this inflatable premium protective collar is an ideal solution for pets recovering from injuries, rashes and surgeries.
Pet owners will take extra comfort knowing their pet is recovering in the unique cushioned comfort provided by a KONG™ CLOUD®. Additionally, patients maintain full visibility, which only speeds their adaptability to the recovery collar. And finally, CLOUDs are constructed with a tough, washable material that is scratch and bite resistant, plus it won't mark or scrape walls, furniture or shins.
Sizing Guide:
| Size | Neck Circumference | Breed Examples |
| --- | --- | --- |
| X-Small | Up to 6-inches | Toy breeds, cats |
| Small | 6 to 10-inches | Jack Russel, Sheltie |
| Medium | 10 to 13-inches | Border Colie, Spaniel |
| Large | 13 to 18-inches | Labrador, Golden Retriever |
| X-Large | 18-inches & Up | Rottweiler, Mastiff, Great Dane |


Manufacturer: Kong
See all products from Kong
Visit Manufacturer's website: www.kongcompany.com
KONG Cloud Soft Inflatable E-Collar Large
UPC: 035585081359