Description is below picture. Click for larger image.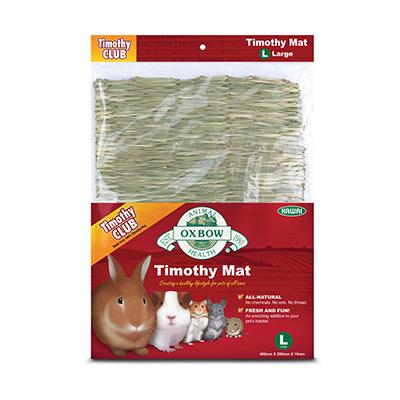 100% Timothy Hay.
No Additives or Preservatives.
100% Edible.
Wire and thread free.
Large mat measures approximately 15¾ x 11½ x ¾-inches.
The Oxbow Timothy Club Timothy Mat is a completely edible, hand-woven mat made from nothing but Timothy grass. The Timothy Mat offers your small animal a place to curl up and get cozy, whether it's inside or outside of the cage. Should your pet get hungry, the high-fiber 100% natural Timothy Hay is the perfect snack. Use this quality accessory from Oxbow to enrich your pet's habitat today!
What is the Timothy Club Process?
The Oxbow Timothy Club process is a step by step, quality control process, that ensures the Oxbow Timothy Club accessory you purchase is everything you've grown to expect from Oxbow.
Harvest-

100% natural, no chemicals added.

Special drying technique-

Drying as soon as possible after harvest helps to maintain color and aroma.

Hand selected-

After drying, each bunch is sorted by hand.

Softened by hand-

The perfect material thickness is achieved by softening and rolling the hay by hand.

Hand woven-

Only 100% Timothy grass hay is used to create Oxbow Timothy Grass accessories.

2nd Drying-

Drying the finished product again helps maintain freshness.

Quality Control-

Finally the finished products are stored in a specially climate controlled room, keeping the product fresh providing quality assurance.


Manufacturer: Oxbow Pet Products
See all products from Oxbow Pet Products
Visit Manufacturer's website: www.oxbowanimalhealth.com
Oxbow Timothy Mat Large Edible Small Animal Accessory
UPC: 744845403168