Description is below picture.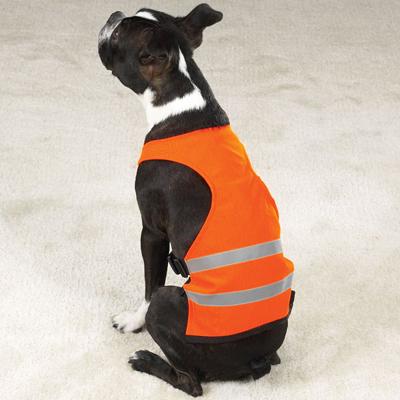 This bright and reflective Guardian Gear Safety Vest helps keep pets safe by increasing their visibility during outdoor activities. Ideal for nighttime walks and exercise sessions. Durable vest has an outer polyester shell with an inner nylon layer and comes in fluorescent orange.
Features quick release cotton straps and two strips of reflective tape for added visibility. Vest can be adjusted at the neck, chest, belly and waist for a comfortable, streamlined fit.
| Size | Actual Length | Breed Recommendation |
| --- | --- | --- |
| XSmall | 8" | Australian Terrier, Chihuahua, Pomeranian, Toy Poodle, Yorkshire Terrier |
| Small | 12" | Boston Terrier, Jack Russell, Maltese, Pug, Silky Terrier |
| Medium | 164" | Beagle, Bichon Frise, Cocker Spaniel, Corgi, Scottish Terrier |
| Large | 20" | Brittany, Bulldog, Collie, Spring Spaniel |
| X-Large | 24" | Australian Shepherd, Border Collie, Dalmatian, Golden Retriever, Weimaraner |
| XX-Large | 30" | Great Dane, Irish Wolfhound, Mastiff, Newfoundland, St. Bernard |


Manufacturer: Guardian Gear
See all products from Guardian Gear
Guardian Gear Reflective Safety Vest for XSmall Dog
UPC: 721343408697