Description is below picture. MouseOver for larger image.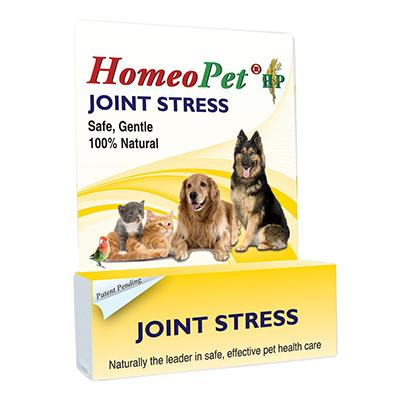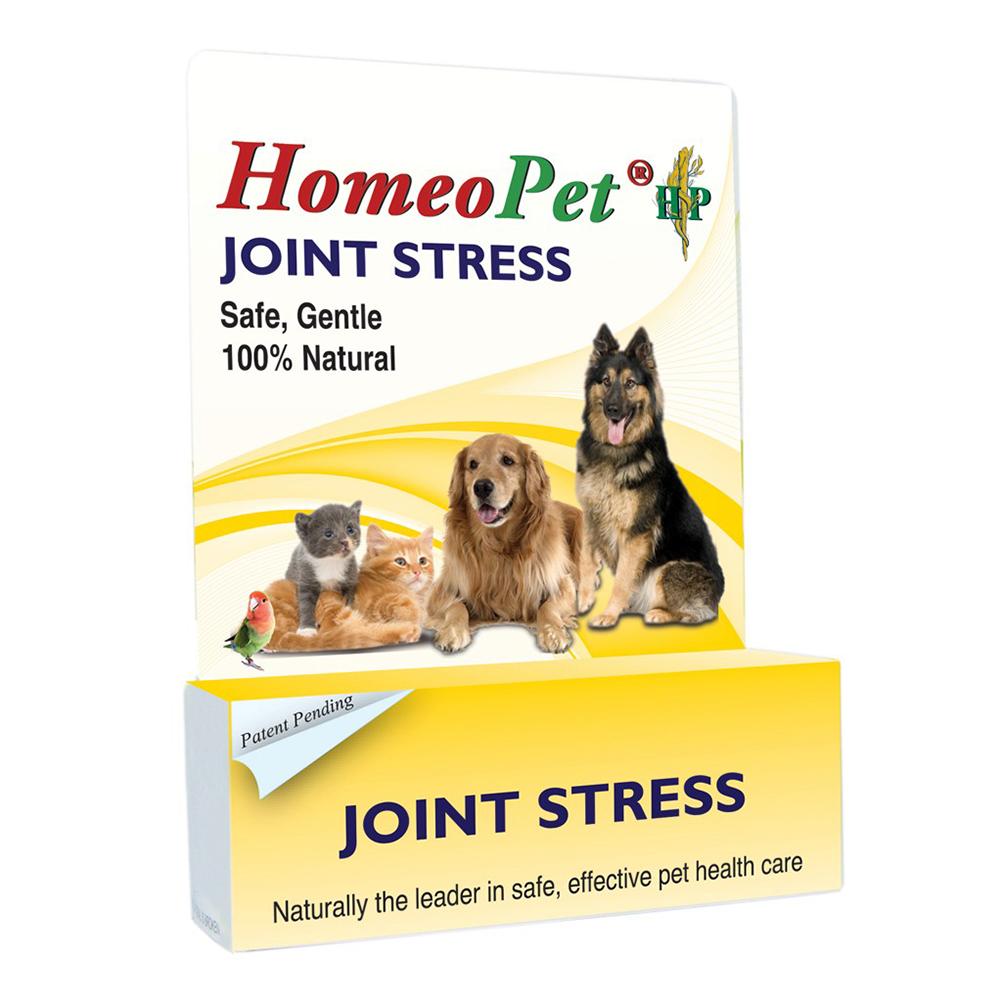 Originating with Irish Veterinarian Thomas Farrington, MVB MRCVS VetMFHom, HomeoPet products are now the gold standard for natural pet remedies. In the United States, HomeoPet is the only line of natural pet remedies to be registered with the FDA-CVM.
HomeoPet Joint Stress has been formulated to treat pets suffering from joint conditions caused by muscle tension, old age, injury, hip displasia, and arthritis. Clinically proven to be safe and effective, HomeoPet Joint Stress can provide relief for pets exhibiting the following symptoms:
Weak hind legs
Hip, back, and joint pain
Limping, or holding foot up
Pain or difficulty moving, rising, or climbing stairs
Ingredients:
Aconitum Napellus 6c & 30c (Monkshood), Arnica Montona 6c & 30c (Leopard's Bane), Calendula Officinalis 6c & 30c (Pot Marigold), Hamamelis Virginiana 6c & 30c (Witch Hazel), Hypericum Perforatum 6c & 30c (St. John's Wort), Lathyrus Sativus 6c & 30c (Chick Pea), Rhus Toxicodendron 6c & 30c (Poison Oak).
Dosage - For Dogs, Cats, and Small Mammals
| Weight | Amount | Acute Symptoms | Typical Use | Positive Response |
| --- | --- | --- | --- | --- |
| under 1Lb. | 2 drops | -- | 3 times a day | Twice a day, eventually once a day |
| Less than 20Lbs. | 5 drops | Every 15 minutes, up to 4 doses | 3 times a day | Twice a day, eventually once a day |
| 21 to 60 Lbs. | 10 drops | Every 15 minutes, up to 4 doses | 3 times a day | Twice a day, eventually once a day |
| 61 to 100Lbs. | 15 drops | Every 15 minutes, up to 4 doses | 3 times a day | Twice a day, eventually once a day |
| Over 100Lbs. | 20 drops | Every 15 minutes, up to 4 doses | 3 times a day | Twice a day, eventually once a day |
This formulation may also be used with caged birds - 2 drops added to drinking water daily.



Manufacturer: Homeo Pet
See all products from Homeo Pet
Visit Manufacturer's website: www.homeopet.com
Homeopet Joint Stress Homeopathic Pet Remedy 15ML
UPC: 704959147235
Condition:New