Description is below picture. Click for larger image.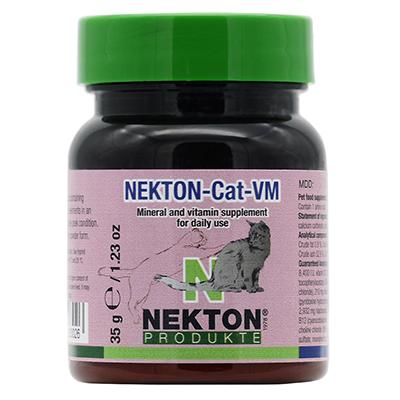 NEKTON-Cat-VM: The perfect vitamin and mineral supplement for cats!
NEKTON-Cat-VM is a special supplement that contains all the essential vitamins and minerals your cat needs. It also includes the amino-sulfonic acid taurine and the amino acid arginine, which are important for your cat's health.
Cats require vitamins, minerals, and trace elements to stay healthy. However, their bodies either do not produce these substances or cannot produce enough of them. That's why it's crucial to provide them through their diet.
By using NEKTON-Cat-VM, you can ensure that your cat receives all the necessary nutrients to prevent deficiencies and support a controlled metabolism. It's a highly effective formula that optimizes your cat's vitamin and mineral intake.
Cats and Their Unique Nutritional Needs:
Cats are strict carnivores, which means their dietary requirements differ from those of dogs, who have evolved to be omnivores. Cats have a specialized metabolism that requires a diet rich in meat.
Unfortunately, the food that humans provide to domestic cats often deviates from their natural diet and doesn't always meet their specific nutritional needs. In the wild, cats fulfill their requirements for meat, fat, trace elements, vitamins, and minerals by consuming their prey in its entirety, including the fur, organs, stomach, and intestines.
The key components of cat nutrition are vitamins, proteins, and minerals. However, due to their metabolic specialization, cats can experience deficiencies in these essential dietary constituents, especially during times of high stress, such as intense physical activity, shows, or illnesses.
Arginine:
Arginine is an essential amino acid that plays a crucial role in the body's urea cycle. Both young and older cats require arginine for proper functioning. If a cat lacks arginine, it can lead to an accumulation of ammonia in the blood, resulting in symptoms like excessive drooling, vomiting, tremors, seizures, loss of consciousness, and even death. These symptoms are often mistaken for poisoning.
Taurine:
Taurine is another essential amino-sulfonic acid that cats need in their diet. It is necessary for the production of bile acids, which are vital for digestion. Additionally, as cats consume more fiber in their diet, their taurine intake needs to be increased.
A deficiency in taurine can lead to impaired fertility in cats. Moreover, if a mother cat lacks taurine, her offspring may exhibit various neurological and visual abnormalities, including blindness. It is important to note that no other vitamin supplements should be administered when using NEKTON-Cat-VM.
How to feed:
A 1 gram measuring spoon is included in each bottle, use it for precise dosing as follows:

Adult cats 1 g (1 level measuring spoon) NEKTON Cat-VM per day.
Young cats which are still growing and older cats 1.5 g (1.5 measuring spoons) per day.
Because of this supplement's higher content of vitamins and trace elements than in a complete feed, it may only be added to 20% of a cat's daily ration.
Storage:
NEKTON-Cat-VM should be stored dry and out of sunlight, between 15° and 25° C (59° and 77° F). DO NOT STORE IN THE FRIDGE !!!

Composition:
Dextrose, dicalcium phosphate, calcium carbonate, sodium chloride.

Technological additive:
Silicic acid

Analytical constituents:
Crude protein 20.6 %, crude fat 0.1 %, crude fiber 0.1 %, crude ash 44 %, calcium 13 %, phosphor 5 %, sodium 0.4 %

Nutritional additives per kg (2.2lbs):
250,000 I.U. vitamin A, 8,400 I.U. vitamin D3, 2,600 mg vitamin E (all-rac-alpha-tocopherylacetate), 400 mg vitamin B1 (thiamine mononitrate), 210 mg vitamin B2 (riboflavin), 200 mg vitamin B6 (pyridoxine hydrochloride), 680 mg calcium-d-pantothenate, 2,932 mg niacinamide, 65 mg folic acid, 1,600 µg vitamin B12 (cyanocobalamine), 3,400 µg biotin, 5,000 mg choline chloride, 80 mg taurine, 360 mg iron (ferrous(II)- sulfate, monohydrate), 180 mg zinc (zinc sulfate, monohydrate), 50 mg copper (cupric(II)-sulfate, pentahydrate), 25 mg iodine (calcium iodate, free of water)

Available in 2 sizes: 35g (1.23oz), 150g (5.29oz).



Manufacturer: Nekton
See all products from Nekton
Visit Manufacturer's website: www.nekton.net
Nekton-Cat-VM Feline Food Supplement 35g (1.23oz)
EAN: 0733309283026