Description is below picture. Click for larger image.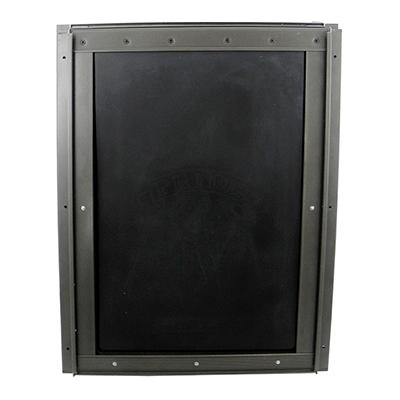 Open box product in new condition. These are typically returned becuase the original purchaser didn't realize how involved installation can be. This door will not come with the original packaging, but will include all the original hardware and parts.
Tired of going to the door every time your dog or cat wants to go in or out? Pet doors allow your cat or dog to come and go as they please. Pride pet doors come with a tough long-life flexible rubber panel. They also have permanent magnets to keep flap closed which eliminates drafts or dust. They have a sturdy extruded aluminum frame with an anti-corrosion bronze finish. A rigid hardboard security panel slips easily into guides on the inside or the outside of the frame door to lock pet inside or outside, and for added security.
Can be installed in doors or walls. Note: Some installations may require framing to fill in gaps between walls.
Outside dimensions are 15-1/2 x 19-3/4 inches.
Door opening is 11-1/4 x 16-3/4 inches.
Flap size 13-1/2 x 18-1/2 inches.
Approximate cut-out size 14 x 19.5 inches.


Manufacturer: Z Industries
See all products from Z Industries
Pride Anodized Bronze Pet Door Large LD500
UPC: 030325005022