Item 19112
Your Price today: $ 38.39
Currently out of stock. Call or e-mail for availability info, or else click here for a form to tell us how many you wanted to order.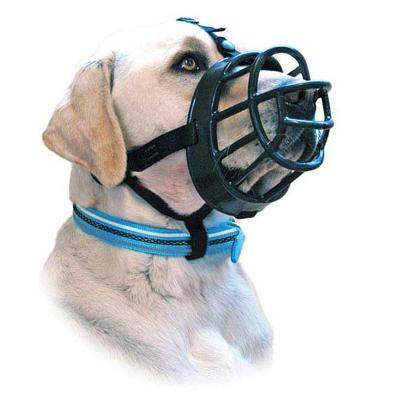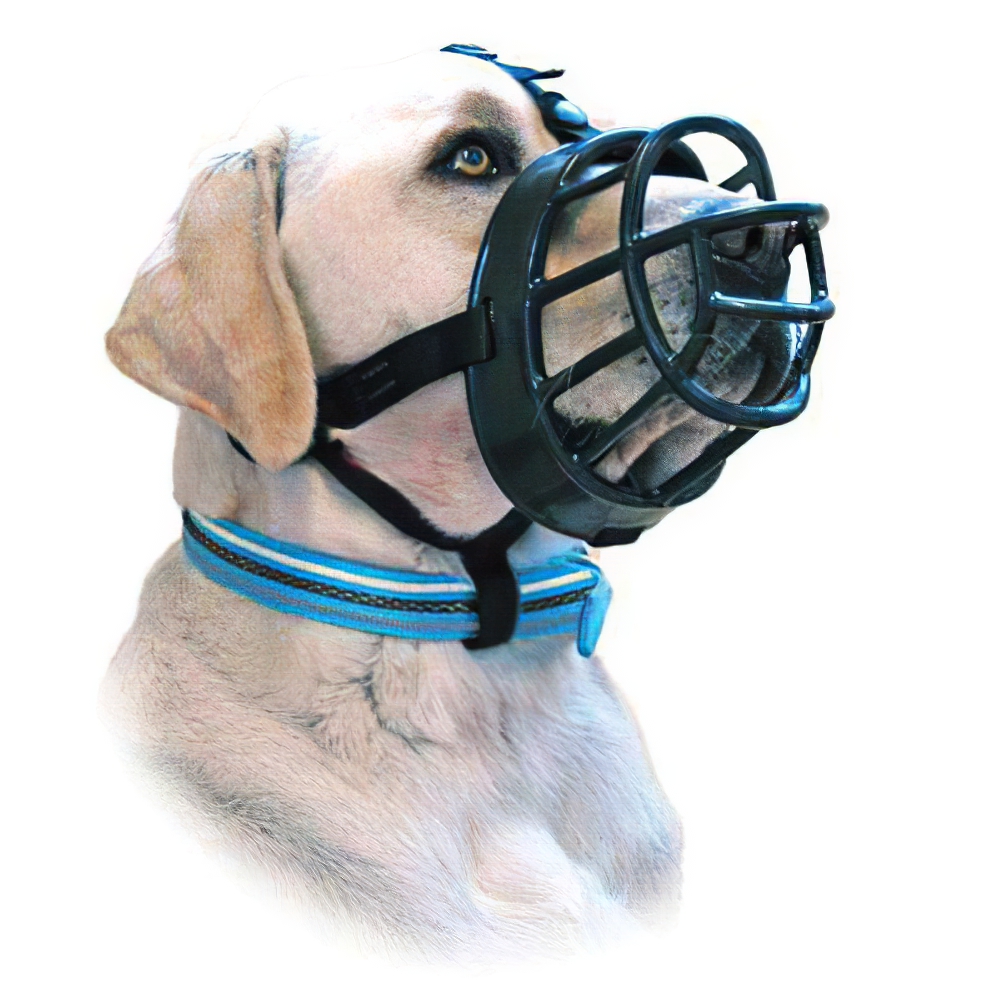 Baskerville Ultra is the ultimate muzzle. Every aspect of the muzzle's design has been created to combine maximum safety with comfort for the dog. Made from extremely tough material that is durable, yet malleable and soft to touch. The ergonomically designed safety strapping ensures the muzzle will always remain securely in place and features two additional points of secure attachment. The loop at the bottom is designed to attach to your dog's regular collar (collar not included) and an optional over-head safety strap should ensure that even a canine Houdini cannot escape! The Ultra also has a secure metal buckle with pre-holed webbing, to ensure it is quick and easy to fit and the neoprene padding ensures it is snug and comfortable.

As welfare is always paramount with all of The Company of Animals' product designs, the dog can pant, drink and even be fed through this revolutionary muzzle, which comes in six sizes to fit most dogs.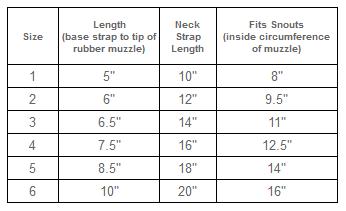 Sizes are available in 1 - 6 and are for typical adult dogs & bitches. Juveniles may need a size smaller. It is important to have the correct fitting for every dog – see packaging instructions.
BASKERVILLE Muzzle Height must allow mouth to open in panting; length must have 1cm clear from end of nose.
Suggested Size by breed
Size 1: Bichon Frisé, Boston Terrier, Dachshund Miniature, Dachshund Standard, Maltese, Norfolk/Norwich Terrier, Poodle Toy, Yorkshire Terrier
Size 2: American Cocker, Basenji, Bedlington Terrier, Border Terrier, Cairn Terrier, Cavalier Spaniel, Fox Terrier, Jack Russell, Lakeland Terrier, Schnauzer Miniature, Schnauzer, Sheltie, Shiba Inu, Welsh Terrier, West Highland White, Whippet
Size 3: Australian Cattle Dog, Australian Shepherd, Beagle, Bearded Collie, Border Collie, Borzoi, Cocker (English), Corgi, Hungarian Vizsla, Irish Water Spaniel, Keeshond, Poodle Standard, Rough Collie, Saluki, Scottish Terrier
Size 4,: Dalmatian, Elkhound, Kerry Blue Terrier, Pointers, Samoyed, Soft Coated Wheaten, Springer Spaniel, Staff Bull Terrier
Size 5: Afghan Hound, Airedale, Alaskan Malamute, Basset Hound, Belgian Shepherd, Bernese MD, Briard, Brittany Spaniel, Bull Terrier, Chow Chow, Chesapeake Bay Retriever, Dobermann, English Setter, Flat Coated Retriever, Foxhound, German Shepherd, Golden Retriever, Gordon Setter, Greyhound, Irish Setter, Labrador Retriever, Lurcher, Maremma Sheepdog, Munsterlander, Old English Sheepdog, Pharaoh Hound, Ridgeback, Siberian Husky, Weimaraner
Size 6: American Staffordshire, Bouvier, Boxer, Bull Mastiff, Great Dane, Irish Wolfhound, Japanese Akita, Mastiff, Newfoundland, Pit Bull, Rottweiler, Schnauzer Giant

Manufacturer: The Company Of Animals
See all products from The Company Of Animals
Visit Manufacturer's website: https://www.companyofanimals.us
Baskerville Ultra Dog Muzzle Size 6
UPC: 886284616201