Description is below picture. Click for larger image.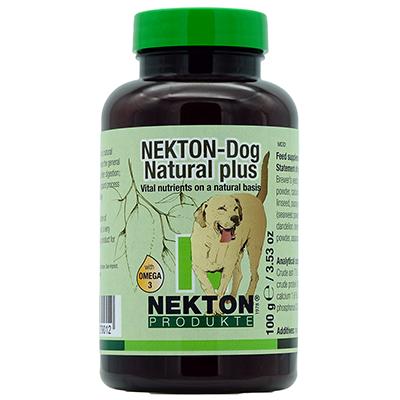 NEKTON-Dog Natural Plus: Enhanced Digestion and Overall Well-being
NEKTON-Dog Natural Plus is an amazing food supplement made from natural ingredients that improve commercial dog food. It contains vital substances known as "secondary plant substances" or "bio-active substances," which promote vitality, digestive health, and overall well-being. The positive effects of bio- active substances have been extensively tested in animals and humans alike.
NEKTON-Dog Natural Plus is often used to address digestive issues such as diarrhea or constipation, as a natural addition to raw feeding, or to enhance store-bought foods. Unlike traditional NEKTON products that focus on nutritional additives like vitamins, trace elements, and amino acids, NEKTON-Dog Natural Plus introduces a completely new and complementary concept. It combines natural substances with optimal levels of nutrients and active ingredients.
Key Ingredients and Their Effects:
Yeast: Complements the staple diet with valuable amino acids. It also provides a naturally concentrated vitamin B complex and beneficial fibers from yeast cell walls.
Rice starch: Helps regulate pH in the gut and serves as a highly absorbable energy source for dogs.
Calcium citrate: An organic calcium compound that supports bone and tooth health. It also delivers citrate as a readily available source of energy. Sodium chloride provides electrolyte support.
Dandelion: Contains fructan, prebiotics, and inulin from sunroot tubers, which promote the growth of beneficial intestinal bacteria and aid digestion.
Seaweed ascophyllum: Offers prebiotic fibers, particularly "ß-glucans," along with valuable ocean minerals and the trace element iodine. It also nourishes beneficial intestinal bacteria.
Beetroot: A natural source of micronutrients and trace elements such as iron, vitamin B, folic acid, and potassium. The red color comes from betaine, a vitamin-like red dye known for its heart, blood vessel, and liver protective properties.
Asparagus: Contains high-quality fructooligosaccharides (FOS) that benefits sensitive intestinal occupants. It promotes a healthy intestinal flora, which is essential for a properly functioning immune system.
Leeks: Rich in FOS, essential oils, scents, and flavors that stimulate digestive juices. Together with asparagus aromas, they enhance digestion.
Barley grass and carrots: Offer cell protection, act as radical scavengers, and provide natural antioxidants with their carotenoids (lycopene, lutein, and ß-carotene). They are also essential for eye function.
Papaya: Contains the digestive enzyme papain, which aids in the digestion of meat and protein-rich food, enhancing overall digestion and contributing to your dog's well-being.
Canola oil: Contains high levels of essential unsaturated omega-3 and omega-6 fatty acids, including a-linolenic acid and linoleic acid. These fatty acids are vital!
NEKTON-Dog Natural Plus combines a range of vital nutrients to provide optimal benefits for your dog's health and well-being.
How to feed:
A measuring spoon is included inside each bottle of NEKTON-Dog Natural Plus. 1g of NEKTON-Dog Natural Plus corresponds to one measuring spoon.
Mix the following amounts in to food daily:

Dogs up to 10 kg (22lbs) - 1g (measuring spoon) of NEKTON-Dog Natural Plus
Dogs up to 25 kg (55lbs) - 2g (two measuring spoons) of NEKTON-Dog Natural Plus
Dogs over 25 kg (55lbs) - 3g (three measuring spoons) of NEKTON-Dog Natural Plus
Storage:
NEKTON-Dog Natural Plus should be stored dry and out of sunlight, between 15° and 25° C (59° and 77° F). DO NOT STORE IN THE FRIDGE !!!

Composition:
Brewer's yeast, carrot powder, rice starch, calcium lactate (pentahydrate), barley grass, linseed, papaya leaves, Ascophyllum (seaweed powder), sodium chloride, dandelion, beetroot, rapeseed oil, leek powder, asparagus powder

Analytical constituents:
Crude ash 7.8 %, crude fiber 7.6 %, crude protein 10.6 %, crude fat 2.5 %, calcium 1.9 %, sodium 2.0 %, phosphorus 0.3 %

Available in a 100g (3.53oz) size.



Manufacturer: Nekton
See all products from Nekton
Visit Manufacturer's website: www.nekton.net
Nekton Natural Plus Dog for Well Being 100 gram
EAN: 0733309279012