Description is below picture. Click for larger image.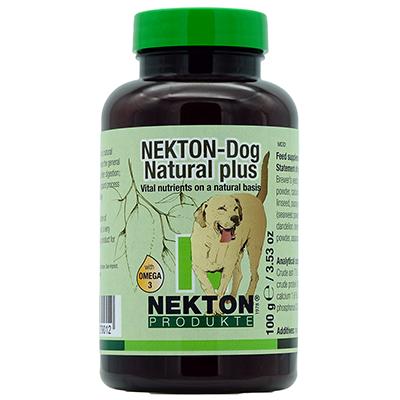 All natural prebiotic and well-being supplement from Nekton
Works with Nekton's Vitamin supplements for complete health
Imported from Germany
Nekton Natural Plus for dogs is based on the idea that certain plant- based, bio-active substances can have a positive effect on the overall health and wellbeing of dogs. Natural Plus is not a vitamin/mineral supplement or a replacement for them. Instead the ingredients in Natural Plus have been selected due to their positive effects on various aspects of dogs physiology. Among other things, it can be considered a prebiotic and wellbeing supplement.
The following details the "what and why," regarding the ingredients that make up Natural Plus: Yeast provides amino acids, B-complex vitamins, and dietary fiber from the yeast cell-wall. Jerusalem Artichoke for its inulin content, which acts as a prebiotic. Glucan, or the prebiotic dietary fiber from the cell wall of Ascophyllum seaweed, is rich in iodine and other sea minerals, besides acting as a prebiotic. Asparagus and Leeks have been added for their essential oils, flavor, and more importantly their FOS (fructooligosaccharides), which act as probiotics and bolster probiotics. Tomatoes and carrots are added for their carotenoids lycopene and betacarotene; these powerful antioxidants protect cells and fight the ageing process. Artichoke protects the liver and improves the flow of bile from the gall bladder. Paprika's essential oils stimulate the digestive system, while the polyphenols lutein and zeaxanthin protect the eyes. Finally Natural-Plus is rounded out with the addition of Omega 3,6, and 9 fatty acids for a great skin and coat, as well as L-Carnitine for energy.
Nekton has created a range of dog and cat supplements because no one supplement can cover all requirements in all situations. Be sure to check out Nekton-Dog-V, a vitamin-only supplement that allows owners to ensure their dog's unique vitamin requirements are met. Nekton-Dog-H is also available for dogs with skin and coat issues due to biotin deficiency. Last but not least is Nekton-Dog-VM, which is the daily maintenance vitamin, mineral, and trace element supplement for all dogs.
Decades of use in zoos, wildlife parks, and veterinary hospitals demonstrate a track record that is second to none in the pet industry. Nekton supplements set themselves apart from other offerings due to the quality of the raw materials used in their production and, more importantly, the proportion of these materials to one another in each product.
Guaranteed Analysis per 1000g: Crude protein min. 25.3%, crude fat min. 4.2%, crude fiber min. 20.4%, and crude ash 9.7%. Carnitine (as L-Carnitine) 2000 mg per 1000 g.
Ingredients: Yeast, carrot powder, girasol powder (Jerusalem artichoke), asparagus powder, tomato powder, ascophyllum powder (seaweed), leek powder, artichoke powder, paprika powder, omega 3-6-9 fatty acid powder.
USAGE

Dogs up to 22Lb - 1 teaspoon
Dogs up to 55Lb - 2 teaspoons
Dogs over 55Lb - 3 teaspoons, mixed into their food daily.
Net Weight: 100g

Manufacturer: Nekton
See all products from Nekton
Visit Manufacturer's website: www.nekton.net
Nekton Natural Plus Dog for Well Being 100 gram
EAN: 0733309279012