Description is below picture. Click for larger image.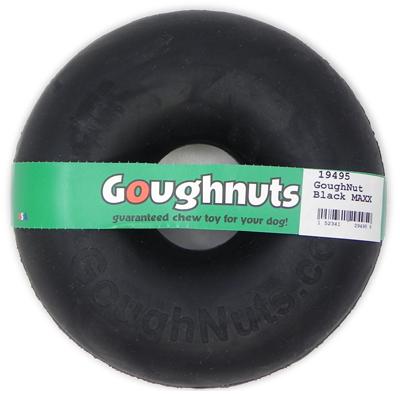 Does your dog destroy whatever toys you give it? Try a GoughNut, the super dog toy that takes safety and longevity to the extreme. GoughNuts are everything you and your dog could ever want in a safe and durable dog toy! Made in the USA from advanced rubber compounds, GoughNuts are incredibly tough and have been designed for the most powerful chewers out there.

Dogs strong enough to destroy their toys face the danger of ingesting parts of the toy if the damage isn't caught in time by the owner. GoughNuts has addressed this serious issue with a patent-pending safety indicator. Each GoughNut features a two-part construction. Inside the outer layer is a red safety core. If at any time your dog exposes the red core, the integrity of the toy has been compromised. Take the toy away, send it back to the manufacturer, and receive a free replacement! This could be the last dog toy you ever buy!

GoughNut Black MAXX is the big brother to the Black GoughNut, and is suitable for all dogs who are extreme chewers. As tough as the original (Green) GoughNuts are, the black ones incorporate carbon technology for POWER chewers. Measures 6 inches wide x 2 1/8 inches thick. Correct sizing is as important as any safety feature. Choose a chew toy that is big in your dogs mouth. The chew toy should appear large in your dogs mouth. When you have a doubt about what size to choose, please ask a pet professional for help. As a rule make sure the chew toy is larger in size than the distance between your dogs back molars when measuring across the jaw.
Made in the USA
Extremely durable
Patent-pending safety indicator
Free manufacturer guarantee for life!
GoughNuts even float!
GoughNuts Guarantee
If your dog chews through the outside wear layer, Green or Black, to expose the indication layer, Red, GoughNuts will replace your toy. GoughNuts patent pending, "Chew Toy Safety Indicator" is a mechanism for the dog owner to see a clear indication of when to take the GoughNut from the dog.

Return Procedure - If you see a red indication, return the GoughNut to:

GoughNuts LLC 217 Lois Ave Modesto, CA 95350

Please include a check for $5.25 that covers the priority shipping of a new GoughNut back to you. If you live in Canada the check should be for $19.95. Please be patient with us as we continue into our world wide expansion. We will evaluate the toy damage and return a new toy. This return or guarantee policy is one of our commitments to your dogs safety. Please do not allow your dog to continue chewing the GoughNut if red is indicated. The safety premise is designed to give clear indication to show when the toy is damaged and is and instruction or indication to take the GoughNut away from the dog.


Manufacturer: GoughNuts LLC
See all products from GoughNuts LLC
Visit Manufacturer's website: www.goughnuts.com
GoughNut Black MAXX Dog Chew Toy
UPC: 753182224060