Description is below picture. Click for larger image.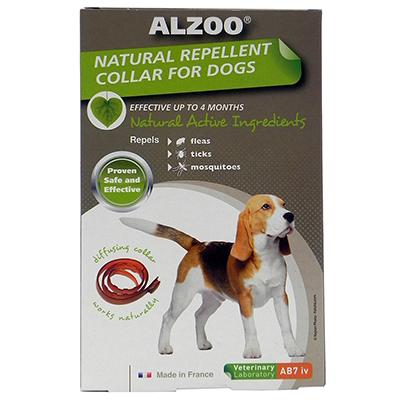 Alzoo flea and tick collars use only natural oils to repel and prevent infestation. A natural alternative to using harsh toxins.
Measures 23.6 inches to fit your dog's neck, adjusts down for ideal fit
Effective up to 4 months
Repels fleas, tick, mosquitoes
Made in France
Waterproof
Active Ingredient: Geraniol 1.2%, Citronella and citronella oil 5.4%, Cinnamon and cinnamon oil 5.4%
Inert Ingredients 88%: Nylon, Zinc Stearate, 1,2-Propylene carbonate, Almond Oil
Total: 100%
The collar contains geraniol, citronella oil and cinnamon oil which may produce an allergic reaction. If you suspect your pet may be allergic to these essential oils or natural products, follow these usage instructions:
Remove the collar from its package and allow it to remain outside for one hour, away from your pet.
On the first day, use the collar on your pet outside and for one hour only, then remove.
Each day following, increase the hours your pet wears the collar by one hour daily.
Continue for about four days to ensure the collar is well tolerated by your pet.
If there is no allergic reaction, your pet may continue to wear the collar.


Manufacturer: Alzoo
See all products from Alzoo
Visit Manufacturer's website: www.alzoo-vet.com
Alzoo Natural Flea and Tick Repellent Dog Collar Medium
EAN: 3420900111922