Description is below picture. Click for larger image.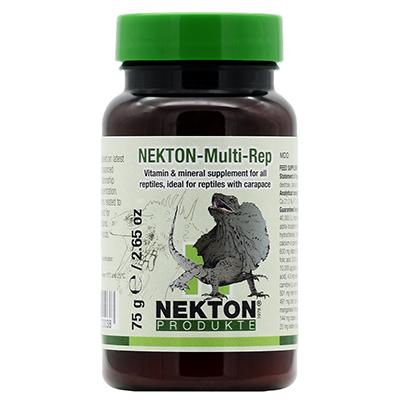 Multivitamin preparation for reptiles and amphibians with less vitamin A
NEKTON-Multi-Rep has 12 vitamins, 9 amino acids, and 6 trace elements to ensure your reptiles get the essential nutrients they need. This feed supplement promotes strong bones, healthy growth, and prevents paralysis symptoms like leg tightening. It's great for armor-bearing, non-molting reptiles and amphibians because of its low concentration of vitamin A and well-balanced calcium - phosphorus ratio. To prevent deficiencies, offer NEKTON-Multi-Rep at least once a week. Do not use any other vitamin preparation while using NEKTON-Multi-Rep.
NEKTON-Multi-Rep is very similar to Nekton-Rep, except that it has a much lower level of vitamin A, compared to NEKTON-Rep. This lower vitamin A level makes it ideal for turtles and tortoises as it helps prevent skin, shell, bone, and eye issues. It can be helpful in controlling the amount of vitamin A supplementation in chameleons as well, in order to avoid vitamin A induced metabolic bone disease. Advanced hobbyists will appreciate the ability to customize vitamin A-levels, by alternating between NEKTON-Multi-Rep and NEKTON- Rep. Such as when keeping and raising poison dart frogs.
Nekton-Multi-Rep is a soluble in cold water and can be administered in a variety of ways, depending on what is best for the particular reptile or amphibian. Nekton-Multi-Rep can be added to soft, moist food, it can be used to dust feeder insects, it can be added to drinking water, and it can even be injected under the skin of feeder animals. For amphibians spending a significant portion of their life in water, it can simply be added to the terrarium water, and they will absorb Nekton-Multi-Rep through their skin.
How to feed:
NEKTON-Multi-Rep is water-soluble and easy to administer via drinking water or as a powder via food animals.
0.25 g (0.009 oz) of NEKTON-Multi-Rep per kg (2.2 lbs) body weight daily, or 1.5 g (0.05 oz) once a week.
One level measuring spoon (enclosed) corresponds to 1 g (0.035 oz) of NEKTON- Multi-Rep.
Due to the higher content of vitamin D and trace elements compared to complete feeds, this supplementary feed may only be fed to reptiles and amphibians up to 5% of the daily ration.
ADDED TO FEED
This is the simplest way. NEKTON-Multi-Rep can be mixed with the reptile's plant or meat food: E.g., Tortoises - scatter a pinch of NEKTON-Multi-Rep over chopped or shredded lettuce leaves after wetting them slightly. Turtles - knead NEKTON-Multi-Rep into finely chopped heart and form tiny balls that can then be fed by means of tweezers.
If the animals are fed on live fodder, it is better to dissolve the NEKTON-Multi-Rep powder in water and inject this under the skin of the animal used as fodder.
In the case of insect-eating reptiles and land amphibians put the dose of NEKTON-Multi-Rep powder into a jar, let the insects in and shake the jar. The insects are then covered in NEKTON-Multi-Rep and can be fed to the animal as usual.
ADDED TO DRINKING WATER
This method is quite simple as NEKTON-Multi-Rep is soluble in cold water and thus guarantees a full and reliable supply of vitamins and trace elements.
For land reptiles add 1 gram NEKTON-Multi-Rep to a water ration of 1/4 litre and this meets the animal's vitamin needs completely. Use fresh water every day. At the beginning remove all other drinking vessels so that the animal is forced to use the one containing the vitamins. In time you will find your pet prefers the water with NEKTON-Multi-Rep to its normal drinking water.
ADDED TO TERRARIUM WATER
Amphibians living mostly in water can absorb the vitamins through their skin or by swallowing the water. As a guide we recommend a measuringspoonful (1 g) to 30 litres water (about 7 U.S. gallons).
Storage:
NEKTON-Multi-Rep should be stored dry and out of sunlight, between 15° and 25° C (59° and 77° F). DO NOT STORE IN THE FRIDGE !!!


Composition:
Dicalcium phosphate, dextrose, calcium carbonate, magnesium carbonate

Sensory additive:
Taurine 2,000 mg

Analytical constituents:
Ca 21.3 %, P 7.0 %, Mg 0.4 %, Na 0.01 %

Nutritional additives per kg (2.2lbs):
200,000 IU vitamin A, 40,000 IU vitamin D3, 2,000 mg vitamin E (all rac-alpha- tocopheryl acetate), 360 mg vitamin B1 (thiamine mononitrate), 500 mg vitamin B2 (riboflavin), 800 mg calcium D-pantothenate, 2,500 mg niacinamide, 600 mg vitamin B6 (pyridoxine hydrochloride), 226 mg folic acid, 3,000 µg vitamin B12 (cyanocobalamin), 10,000 µg biotin, 4,000 mg vitamin C (L-ascorbic acid), 4.5 mg selenium (sodium selenite), 15,000 mg carnitine (L-carnitine), 10,000 mg choline chloride, 501 mg iron (ferrous sulphate, monohydrate), 491 mg zinc (zinc sulphate, monohydrate), 250 mg manganese (manganese(II) sulphate, monohydrate), 144 mg copper (copper(II) sulphate, pentahydrate), 20 mg iodine (calcium iodate, anhydrous)

Available in 4 sizes: 35g (1.23oz), 75g (2.65oz), 300g (10.58oz), 700g (24.69oz)



Manufacturer: Nekton
See all products from Nekton
Visit Manufacturer's website: www.nekton.net
Nekton Multi-Rep 75gm Vitamins and Minerals for all Reptiles
EAN: 0733309220038