Description is below picture. Click for larger image.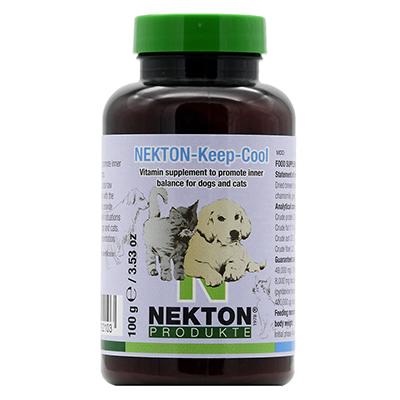 NEKTON-Keep-Cool: Soothe Your Nervous and Restless Pets
Introducing our revolutionary new product designed to bring peace and relaxation to your beloved pets. This unique development combines natural ingredients like chamomile, ginger, and hops with B vitamins and L-tryptophan, an essential amino acid. These high-quality components support the production of serotonin in the brain, acting as a mood enhancer.
NEKTON-Keep-Cool is specially formulated to calm dogs and cats that tend to be nervous or restless. It effectively alleviates anxiety in fearful or stressful situations, allowing your pets to have positive learning experiences even when faced with challenges. The full benefits of NEKTON-Keep-Cool can be experienced after consistently administering it for approximately 4 weeks. If necessary, it can be used for long-term periods to reinforce your animal's positive experiences. Rest assured, it will not alter your pet's personality!
NEKTON-Keep-Cool: Promoting Peace and Relaxation for Pets
NEKTON-Keep-Cool was developed based on the recommendation of a dog school in Karlsruhe, Germany, specializing in working with dogs exhibiting behavioral problems. This innovative solution combines natural ingredients to help dogs and cats with these so-called "behavioral problems" find peace more easily and adopt a more relaxed demeanor. Before starting treatment, it is important to consult a veterinarian to rule out any underlying physical illnesses.
NEKTON-Keep-Cool is not a medication and does not have numbing or inhibiting effects. Instead, NEKTON-Keep-Cool supports the animal's body with high-quality substances, enabling them to handle stressful situations more easily and calmly. This formula aims to help dogs and cats cope with challenging or stressful situations in a calmer manner and become more responsive to commands and training. Additionally, it can assist in reducing disruptive behaviors. Although the process may take time, it is definitely worth it for both pets and owners to enjoy a relaxed daily routine. NEKTON-Keep-Cool can be used over an extended period, and its full effects will become evident after approximately 4 weeks.
It's important to note that NEKTON-Keep-Cool is not a substitute for daily walks, training, and proper care of dogs or cats. For optimal results, a combination of professional training support and this supportive compound is ideal.
How to feed:
Feeding recommendations per kg (2.2lbs) of body weight:
Daily dose for the first 4 weeks
1 - 10kg (2.2 - 22lbs) 2.5 spoonfuls
10 - 20kg (22 - 44lbs) 5 spoonfuls
20 - 45kg (44 - 99lbs) 7.5 spoonfuls
over 45kg (99lbs) 10 spoonfuls
After the first 4 weeks half the dosage. The enclosed measuring spoon holds 1 gram (g).
Storage:
NEKTON-Keep-Cool should be stored dry and out of sunlight, between 15° and 25° C (59° and 77° F). DO NOT STORE IN THE FRIDGE !!!


Statement of ingredients:
Dried brewer's yeast, calcium carbonate, hop, chamomile, ginger

Analytical constituents:
Crude protein 22.3 %, crude fat 1.1 %, crude ash 37.2 %, crude fiber 2.2 %

Nutritional additives per kg (2.2lbs):
49,000 mg L-Tryptophan, 40,000 mg taurine, 8,000 mg niacinamide, 2,000 mg vitamin B6 (pyridoxine hydrochloride), 24 mg folic acid, 400,000 µg vitamin B12 (cyanocobalamine)

Available in 2 sizes: 100g (3.53oz), 250g (8.82oz).



Manufacturer: Nekton
See all products from Nekton
Visit Manufacturer's website: www.nekton.net
Nekton Keep-Cool Calmative for Dogs and Cats 100gm
EAN: 0733309292103