Description is below picture. Click for larger image.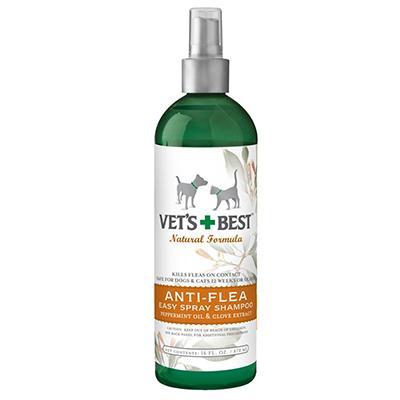 Vet's Best has done it again with a fantastic natural product that WORKS! This unique blend of Peppermint and Clove oils was formulated to kill fleas safely.
Fresh, invigorating scent
Kills fleas by contact
Contains absolutely no pyrethrins or cedar oil
Natural botanical extracts
Easy to apply
Product is safe for dogs & cats 12 weeks or older. For puppies and kittens, body temperature must be maintained. Spray our unique product over the entire pet's coat. (No need to wet the coat with water prior to application.) Massage thoroughly into pet's coat. As you massage, you will notice a soothing lather begin to form. Be sure to treat entire pet, including hard-to-reach areas, such as between paws. Avoid contact with eyes, mouth and nose. For best results, let stand or continue to massage for 5-10 minutes. Apply small amount of water and lather again. Rinse thoroughly. Dry with towel. Pets love it! Repeat as necessary.
Active Ingredients:
Peppermint Oil
0.30%
Eugenol (Clove oil)
0.70%
Sodium Lauryl Sulfate
2.70%
Inert Ingredients:
96.3%
Total
100.0%


Manufacturer: Vet's Best
See all products from Vet's Best
Visit Manufacturer's website: www.vetsbest.com/
Vets Best Natural Anti-Flea Spray Shampoo 16oz
UPC: 031658103478