Description is below picture. Click for larger image.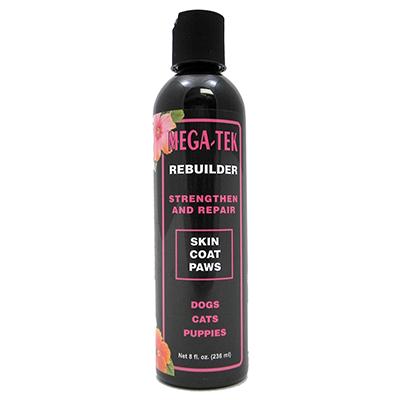 Some of the Eqyss products have recently had their labels, ingredient wording, and order of ingredient listing changed. This has caused speculation that the products are not the same and/or are not as effective as they used to be; however this is not true. Eqyss products have NOT changed their ingredients for over 21 years. The wording was changed to facilitate sales in international markets and the order of ingredient listing was changed to reflect the amount of the ingredient relative to other ingredients. Eqyss has published a letter explaining this, which you can view by clicking here.
No silicone, synthetic polymers, petroleum based products or oils!
Strengthens and restores elasticity to coat!
Removes damaging toxins, chemical residues and medications that can accumulate.
Great for use on hot spots and dry noses!
Use as often as needed; WILL NOT damage skin or coat!
Pet Formula Mega-Tek Rebuilder is a revolutionary formula that is a technological breakthrough. May stimulate and promote a rapid regrowth without the use of wax, silicone, synthetic polymers, oils or petroleum based products. Reduces hair breakage, repairs split ends and damaged hair. Removes damaging toxins, medications and chemical residues. Soothes Hot Spots and is safe for dry noses.

Directions:
Any area suffering from dry skin, hair loss, cracked paw pads, dry noses and hots pots will benefit from the application of Mega-Tek Pet Rebuildier. Apply to wet hair or skin and rinse off after at least 5 minutes.

Ingredients:
Deonized water, stearalkonium chloride, glycerol stearate, cetearyl alcohol (derived from palm oil), castor oil ethoxylate(40), tocopheryl acetate (vitamin E), panthenol, hydrolyzed keratin protein, cetrimonium chloride, tetrasodium EDTA, DMDM hydantoin, methylparaben, propylparaben, fragrance.

Manufacturer: Eqyss
See all products from Eqyss
Visit Manufacturer's website: www.eqyss.com
EQyss Mega-Tek Pet Rebuilder 8 ounce
UPC: 786232107402