Description is below picture. Click for larger image.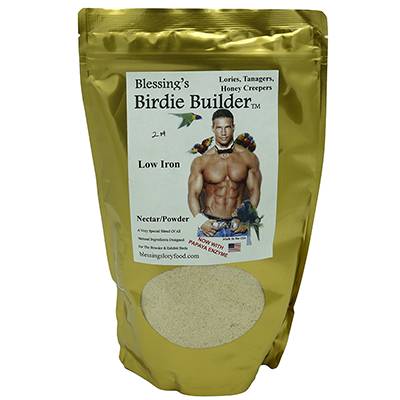 Based on the latest research from zoo keepers, vets, and soft bill breeders, Blessing's Birdie Builder Designer Lory Nectar is made with human grade ingredients and has been created with the long-term health of your bird in mind.
Blessing's Birdie Builder Designer Nectar is ideal for all baby, adult, reproducing, and non-reproducing Lorys. Birdie Builder can be fed as a powder in dry form or mixed with water for a true nectar. Mix three tablespoons powder with one cup of water (4 cups per gallon).
Ingredients:
Double the good stuff! Oat flour, brown rice flour, red whole-wheat flour, fructose, sucrose, soy protein isolate, be pollen, sea weed supplements, 11 different low iron and low vitamin C dried fruits, 14 different dried vegetables with low iron and low vitamin A. Spices for a healthy liver added. Proprietary blend of necessary vitamins, trace minerals, and essential amino acids.
Guaranteed Analysis per 1 cup serving
Crude Protein
14.99%
Crude Fat
2.19%
Carbs
32.47%
Moisture
6.24%
Ash
1.08%
Vitamin A
579 iu/100g
Iron
26ppm
Calories
274


Manufacturer: Blessing's
See all products from Blessing's
Visit Manufacturer's website: www.loryfood.com
Blessings Birdie Builder Designer Lorikeet Nectar 2Lb.
UPC: 053176805429