Description is below picture. Click for larger image.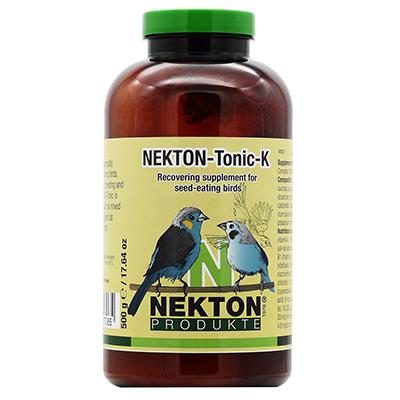 Restorative Supplement for Seed-eating Birds.
Nekton Tonics are renowned for their restorative properties. Tonic-K is specially made for seed-eating birds. It can be added to soft foods or mixed into a slurry with water. Tonic-K contains all the vital nutrients and active ingredients, carbohydrates, fats, amino acids, vitamins, bulk and trace elements in a special form. The L-form of the amino acids is key. This allows birds to receive nutrition without straining the digestive systems. Tonic-K is especially effective when treating ailing and recovering birds, during transport, and other times of stress. Ideally suited to be used in combination with Nekton-S.
How to feed:
For birds that weigh between 3.5 - 7oz (100 - 200g):
As a nutritional supplement: 1 g (1 scoop) of NEKTON-Tonic-K to 10 ml (2 teaspoons) of water. Or: Mix 1 g NEKTON-Tonic-K with 0.3oz(10 g) soft food.
Larger birds 10g (10 scoops) of NEKTON-Tonic-K to 100 ml (0.4 cups) of water or 100g (3.5oz) of soft food. Nekton-S and Nekton-Tonic-K can be mixed together in drinking water.
Storage:
Nekton-Tonic-K should be stored dry and out of sunlight, between 15° and 25° C (59° and
77° F). DO NOT STORE IN THE FRIDGE !!!

Composition:
Dextrose, soy (GMO-free), fructose, sucrose, soy protein isolate (GMO-free), pollen, dicalcium phosphate, sodium chloride, calcium carbonate, potassium dihydrogen phosphate, calcium gluconate, safflower oil, magnesium carbonate, potassium chloride, calcium glycerophosphate

Technological Additive:
Sorbic acid, silica

Nutritional additives per Kg (2.2Lb):
Contains 18 amino acids 39,600 IU vitamin A, 1,998 IU vitamin D3, 40 mg vitamin E (all-rac-alpha-tocopherylacetate), 24 mg vitamin B1 (thiamine mononitrate), 27 mg vitamin B2 (riboflavin), 20 mg calcium D-pantothenate, 60 mg niacinamide, 17 mg vitamin B6 (pyridoxine hydrochloride), 1.3 mg folic acid, 2,350 µg vitamin B12 (cyanocobalamin), 200 mg vitamin C (L-ascorbic acid), 8 mg vitamin K3 (menadione sodium bisulfite), 10,230 µg biotin, 100 mg choline chloride, 33 mg iron (ferrous(II)sulphate, monohydrate), 4.8 mg zinc (zinc sulphate, monohydrate), 8.3 mg copper (cupric(II)sulphate, pentahydrate), 7 mg manganese (manganese(II)sulphate, monohydrate)

Available in 100g (3.5 oz), 200g (7 oz), 500g (17.6 oz), 1000g (2.2Lb) and 3000g (6.6Lb) sizes.



Manufacturer: Nekton
See all products from Nekton
Visit Manufacturer's website: www.nekton.net
Nekton-Tonic-K for seed-eating birds 500gm (1.1Lb)
EAN: 0733309257065