Description is below picture. Click for larger image.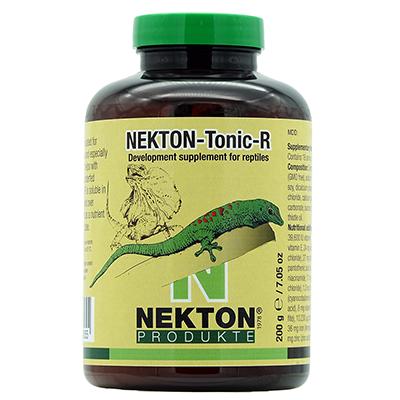 Restorative supplement for reptiles.
The Nekton Tonics are renowned for their restorative properties. Specially made for the needs of carnivorous, herbivorous and especially nectar-eating reptiles. NEKTON-Tonic-R contains nutrients and active ingredients, carbohydrates, fats, amino acids, vitamins, bulk and trace elements in a special form. The L-form of the amino acids is key. This allows herps to receive nutrition without straining the digestive systems. NEKTON-Tonic-R is especially effective when treating ailing and recovering herps, during transport, and other times of stress.
How to feed:
A 1 gram measuring spoon is included in each bottle, use it for precise dosing as follows:
As a nutritional supplement: 1 g (1 scoop) of NEKTON- Tonic-R to 10 ml (1/3 oz) of water. Or: Mix 1 g NEKTON-Tonic-R with 10g (1/3 oz) of soft food. To prevent deficiency symptoms, NEKTON-Tonic-R can be administered about two to three times a week and daily in case of increased stress.
Storage:
NEKTON-Tonic-R should be stored dry and out of sunlight, between 15° and 25° C (59° and 77° F). DO NOT STORE IN THE FRIDGE !!!

Composition:

Dextrose, soy (GMO-free), fructose, sucrose, soy protein isolate (GMO-free), pollen, dicalcium phosphate, sodium chloride, calcium carbonate, potassium dihydrogen phosphate, calcium gluconate, safflower oil, magnesium carbonate, potassium chloride, calcium glycerophosphate

Technological additive:

Sorbic acid, silica

Nutritional additives per kg (2.2lbs):

Contains 18 amino acids 39,600 IU vitamin A, 1,998 IU vitamin D3, 40 mg vitamin E (all-rac-alpha-tocopheryl acetate), 24 mg vitamin B1 (thiamine hydrochloride), 27 mg vitamin B2 (riboflavin), 20 mg calcium D-pantothenate, 60 mg niacinamide, 17 mg vitamin B6 (pyridoxine hydrochloride), 1.3 mg folic acid, 2,345 µg vitamin B12 (cyanocobalamin), 200 mg vitamin C (L-ascorbic acid), 8 mg vitamin K3 (menadione sodium bisulfite), 10,230 µg biotin, 100 mg choline chloride, 36 mg iron (ferrous sulphate, monohydrate), 5.3 mg zinc (zinc sulphate, monohydrate), 9 mg copper (cupric sulphate, pentahydrate), 8 mg manganese (manganese sulphate, monohydrate)

Available in two sizes: 100g (3.5 oz), 200g (7 oz).



Manufacturer: Nekton
See all products from Nekton
Visit Manufacturer's website: www.nekton.net
Nekton-Tonic-R for Fruit/Nectar eating Reptiles 200g
EAN: 0733309258055