Description is below picture. Click for larger image.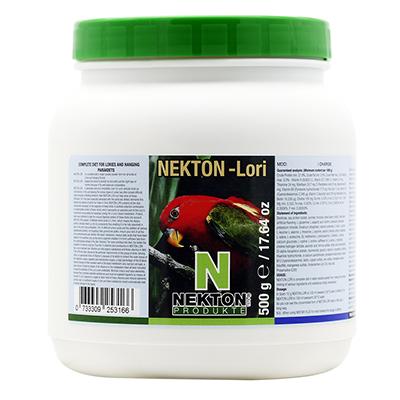 Complete feed concentrate nectar eating parrots
NEKTON-Lori is a balanced complete feed for all species of parrot that largely feed off natural liquid food in the form of flower nectar, plant sap and pollen. The composition of NEKTON-Lori's most high-quality ingredients is strictly oriented toward natural parameters. Furthermore, NEKTON-Lori takes into account the special structure of these birds' digestive tracts, broken down proteins (present as amino acids) and focuses on the direct availability of easy to digest carbohydrates. An optimum mixture is the results of over 100 individual components supplemented by specific fatty acids and enriched with all essential substances (vitamins, trace elements) as well as minerals and major elements. No other feed has to be supplied.
No other vitamin compound should be administered whilst using NEKTON- Lori. Contains 18 amino acids
Composition:
Dextrose, soy protein isolate, pollen, sodium chloride, rice, fructose, potassium dihydrogen phosphate, calcium gluconate monohydrate, dicalcium phosphate, potassium chloride, soy, sucrose, fine bisquit, calcium glycerophosphate, magnesium carbonate, silicic acid, sorbic acid, calcium carbonate, thistle oil, calcium glycerophosphate
Nutritional additives per kg:
40,000 IU vitamin A, 2,500 IU vitamin D3, 40 mg vitamin E, 24 mg vitamin B1 (thiamine hydrochloride), 26 mg vitamin B2 (riboflavin), 20 mg pantothenic acid (calcium-D pantothenate), 60 mg nicotinamide, 17 mg vitamin B6 (pyridoxine hydrochloride), 1.3 mg folic acid, 2,340 µg vitamin B12, 200 mg vitamin C (L(+)-ascorbic acid), 8 mg vitamin K3 (menadione-sodium bisulfite), 10,230 µg biotin, 100 mg inositol, 100 mg choline chloride, 36 mg iron (iron-II-sulfate) 9 mg copper (copper-II-sulfate), 0.1 g zinc (zinc sulfate), 8 mg manganese (manganese-II-sulfate), 0.10 mg molybdenum (ammonium molybdate)
Feeding recommendation:
10 g (1 level measuring spoon) Nekton Lori on 100 ml of warm water (25° C).
Storage:
NEKTON-Lori should be stored dry and out of sunlight, between 15° and 25° C (59° and 77° F). DO NOT STORE IN THE FRIDGE !!!

Recommendation:
Clean drinking vessels and food containers daily with NEKTON-Desi-Natural to guarantee hygienic and clean feed!
Net Weight: 500g (1.1lb)

Manufacturer: Nekton
See all products from Nekton
Visit Manufacturer's website: www.nekton.net
Nekton-Lori Complete Lory Diet 500g (1.1Lb)
EAN: 0733309253166