Description is below picture. Click for larger image.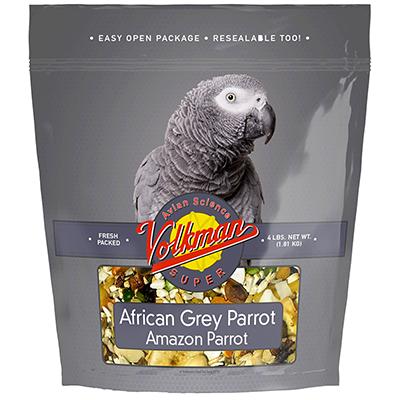 Finally! A diet designed specifically for African Grey Parrots, that is also suitable for Amazons and Cockatoos as well. This is a very diverse seed mix and should give your African Grey extra fun at mealtime!
Volkman Avian Science Super Diets offer a whole constellation of heavenly ingredients to provide balanced nutrition for pet birds. Each Avian Science Diet blend has added vitamins, minerals, and amino acids for your birds health. Store in a cool dry place and refrigerate when opened to extend freshness. As with all seed diets, one should supplement with fresh fruits, vegetables, treats, and cooked foods to give your birds added variety and nutrition.
Ingredients:
Safflower seed, oat groats, paddy rice, buckwheat, peas, Fruit Medley (apricot, nectarine, apple, plutos, peaches, pear, plum, cherry, raisins, cranberries, blueberries, sunflower oil, sulfur dioxide for color retention and as a preservative), peanuts, pumpkin, Mixed Feed Nuts (walnuts, almonds, cashews, pistachios, filberts), sunflower seed, carrot, dehydrated green peas, corn coconut, papaya, moyer fortified(corn, soybean meal, corn gluten meal, soybean oil, DL-methionine, maltodextrin, choline chloride, natural and artificial flavors, L-lysine, dicalcium phosphate, magnesium oxide, betaine anhydrous, silicon dioxide, vitamin e supplement, ascorbic acid, manganous oxide, copper sulfate, calcium pantothenate, sodium selenite, mineral oil, vitamin B12 supplement, vitamin a acetate, calcium iodate, riboflavin, biotin, pyrodoxine hydrochloride, thiamine monoitrate, natural and artificial colors, cobalt sulfate, folic acid, vitamin D3 supplement), banana, Pasta (durum wheat semolina, niacin, iron lactate, thiamine mononitrate, riboflavin, folic acid), hemp seed, pine nuts, star anise, cinnamon, macadamia nut, cuttlebone, anise oil.
Net Weight: 4 lbs

Manufacturer: Volkman
See all products from Volkman
Avian Science Super African Grey Bird Seed 4 lb
UPC: 070789208041