Description is below picture. Click for larger image.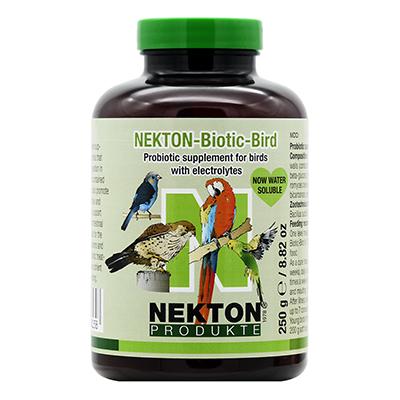 NEKTON-Biotic-Bird: Probiotic supplement for All Bird Species
NEKTON-Biotic-Bird is a probiotic supplement that supports the enzymatic digestion of food in the crop and intestines of birds. It contains probiotic bacteria that naturally promote a healthy microbiome. The electrolytes in NEKTON-Biotic-Bird support the bird's body after gastrointestinal diseases with diarrhea.
NEKTON-Biotic-Bird helps with digestive disorders and accelerates regeneration after diseases. It also supports the development of a healthy microflora in the intestine after antibiotic treatments and has a detoxifying effect on the body.
NEKTON-Biotic-Bird can be given to prepare for stressful situations (e.g., transport or trade-show visits) to counteract excessive stress on the bird. Stress can negatively affect the intestinal flora and often cause digestive problems. NEKTON-Biotic-Bird can support the bird's health in such situations. During breeding, it can also improve the absorption of nutrients.
In recent years, the effectiveness of probiotics like NEKTON-Biotic-Bird in supporting desirable intestinal flora and keeping animals healthy has become widely established. Numerous studies have proven the benefits of Bacillus subtilis, one of the probiotic bacteria contained in NEKTON-Biotic- Bird. It helps promote the right kind of gut flora, with a corresponding reduction of undesirable ones in the intestine, which also improves nutrient uptake from food.
The beneficial bacteria in NEKTON-Biotic-Bird multiply and block binding sites for unwanted germs. The prebiotic components in NEKTON-Biotic-Bird also promote the growth of positive intestinal bacteria and naturally relieve the immune system by binding harmful substances.
How to feed:
Mix 1 level scoop, which is a gram (Spoon included with bottle, 0.035oz) daily with 100g (3.5oz) soft food. Give either to solve digestive problems or to support during breeding over a period of 4-8 weeks. NEKTON-Biotic-Bird can be combined very well with other NEKTON products, Such as Nekton-S, Nekton-Biotin, Nekton-Breed-Star, Nekton-MSA, Nekton-Calcium-Plus, and Nekton-Fly.
Storage:
NEKTON-Biotic-Bird should be stored dry and out of sunlight, between 15° and 25° C (59° and 77° F). DO NOT STORE IN THE FRIDGE !!!

Composition: Dextrose, brewer's yeast cell walls ( contains mannan oligosaccharides and ß-glucans ), brewer's yeast ( 100% Saccharomyces Cerevisiae, inactive ), sodium chloride, potassium chloride, sodium hydrogen carbonate


Zootechnical additive: Bacillus subtilis C-3102, min. 100 Billion CFU / kg


Available in 3 sizes: 50g (1.76oz), 100g (3.53oz), 250g (8.82oz).



Manufacturer: Nekton
See all products from Nekton
Visit Manufacturer's website: www.nekton.net
Nekton-Biotic-Bird 250 Gram Probiotic for Birds (8.82oz)
EAN: 0733309208258